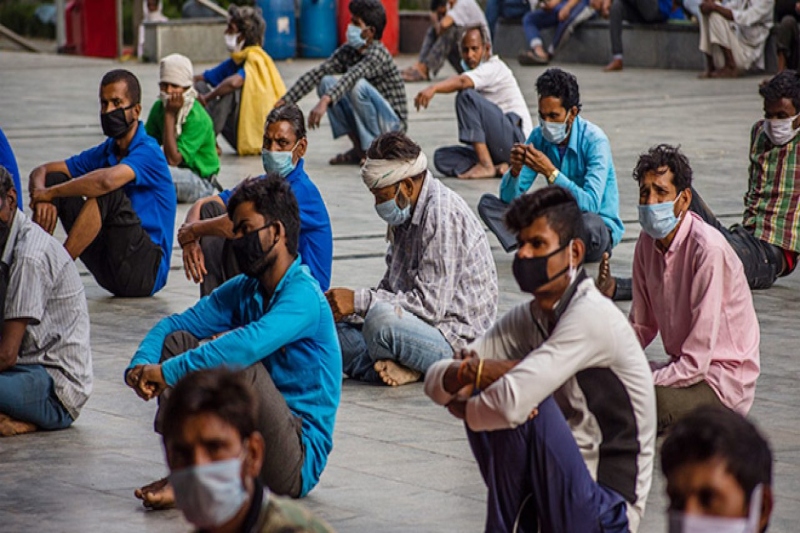 indian migrants in serbia stand strong against continuing exploitation

India – European Union candidate state Serbia is the home for many Indian migrant workers who are facing exploitation at multiple construction projects in the country. A construction company that is registered in the United States has used many legal loopholes to hire these workers to work in Serbia on contract, but despite all odds a group of workers is standing strong against the firm to win the fight for their lawful wages.
More than 150 men from across Indian states began to work for a Serbian construction company in 2019 called GP Nikolic. But the process of emigration wasn't so easy and required them to shell out around EU 680 even before boarding the flight. On arrival in Serbia, the Indian workers found poor accommodations with four people cramped into a small room. No proper food, unsanitary living conditions and poor heating made the workers pay from their pockets for winter clothing apt for sub-zero Serbian winters. A report by the Building and Wood Workers' International (BWI), a global federation of trade unions, notes the migrant workers from India had to work for 10–12 hours a day, and six days per week on average. Boobalan, an Indian worker in Serbia, states he worked a maximum of eighteen hours a day, from 6 a.m. until midnight. "We worked every day, did not have a single day off," he says. He adds that when issue of payment eventually arose, the company "put it off saying, 'yes you'll get it soon, you'll get it soon,' and that continued for four months".
Related Posts
"Every month they had to fight for their salary," says Ponkumar from BWI-affiliated Thamizhaga Kattida Thozhilalargal Mathiya Sangam (TKTMS). At last, the workers went on strike demanding their payment for all the work done. It is then when "the company cut off the electricity and water facility. They were not able to use toilet also," he adds.
After intervention by labor unions, ASTRA – a Serbian organization, and Indian government officials took place, first group of Indian workers were repatriated from Surcin in January and February 2020.But about 50-70 workers, including Boobalan, chose to stay back. Boobalan said that it is because they still received salaries at the point unlike workers in Surcin. But soon after their troubles surfaced in amalgamation with the pandemic.
Explaining the trouble they had to undergo to make their voices be heard, Boobalan says, "[The company] didn't understand our financial distress. They just didn't respond to us properly." He added, "We went on strike—sat in our rooms for five days. Then I went to the Kraljevo mayor's office and complained at the police station."
"Finally, we staged a hunger strike in front of the mayor's office. That's when the Indian Embassy called and told us to end our strike, and that they will settle the issue." The workers were asked to be paid and sent home. Eventually, the workers were repatriated in August–September 2020, sans their pending wages.
In defense, GP Nikolić's owner Nina Nikolić said that no issues were there with the lodgings, and that the workers in March terminated their contracts themselves terminated. She added that the company does not owe the workers any money.
GP Nikolić is a subsidiary of Idea Capital LLC that is registered in Miami, Florida, with a branch in Kraljevo. Documents that were made available through the Florida Department of State website reflect that Nikolić founded Idea Capital in 2013. She is also the owner of GP Nikolić, a family business that was founded in 1991 by the late Dragan Nikolić. Even though working for GP Nikolić, the workers had signed contracts with Idea Capital. They were brought to Serbia through technical cooperation between Nikolić's two companies. "This was the major problem in the case of the Indian workers in Serbia because their contract was with a so-called US-based company," says Jasmin Redzepović from BWI. But Article 2 of Serbia's Labor Law says that all employees working on Serbian territory are protected by Serbia's labor laws.