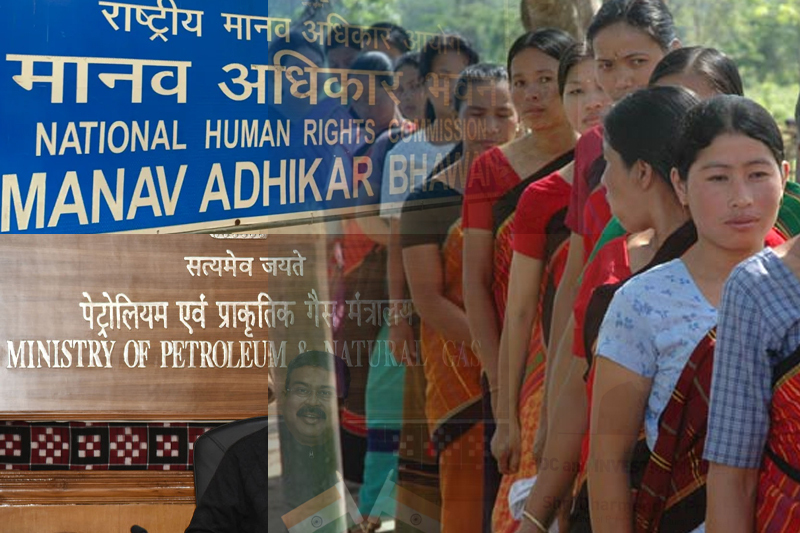 no compensation, no eviction india petroleum

India – The National Human Rights Commission has received assurances from the Union Ministry of Petroleum & Natural Gas that the Chakmas and Deoris will not be forcibly removed without receiving compensation.
The complaint regarding the alleged forcible eviction of the Chakmas and Deoris from the villages of Mudokka Nallah and Sompoi-II in the Changlang district of Arunachal Pradesh for the "Onshore Oil and Gas Exploration and Development and Drilling and Production in Ningru Oil and Gas Field in Districts of Changlang and Namsai for Ningru PML Block by M/S Oil India Ltd." was closed by the National Human Rights Commission in its order dated be carried out in conformity with the law.
On January 20, 2022, the Chakma Development Foundation of India (CDFI) filed a complaint against the State government's attempted eviction of the Chakmas and Deoris without providing fair compensation as required by the Land Acquisition, Rehabilitation, and Resettlement Act, 2013, by claiming the lands as a forest with the intention of avoiding providing fair compensation and rehabilitation as required by the LARR Act.
Related Posts
According to section 3(c) of the LARR Act, the CDFI claimed that the Chakma and Deori families are "project affected families." Affected families include those whose land or other immovable property has been acquired, according to Section 3(c) of the LARR Act.
A family may not own any land, but one or more of its members may work as agricultural laborers, tenants, including those who have usufruct rights, share-croppers, or artisans, or they may have lived in the affected region for three years previous to purchasing the land.
Whose primary source of income is affected by the purchase of land; a family whose main source of income for the three years prior to the purchase of the land was dependent on forests or water bodies and included gatherers of forest products, hunters, fishermen, and boatmen; and whose primary source of income is now impacted by the purchase of land.
The NHRC's protective order will go a long way toward protecting Chakmas and Deoris' rights as they relate to the project. The households impacted by the project are not opposed to the oil drilling project per se; rather, they are seeking compensation under the LARR Act, which the Forest Department is denying because it wants recompense for itself, which is regrettable and illegal.