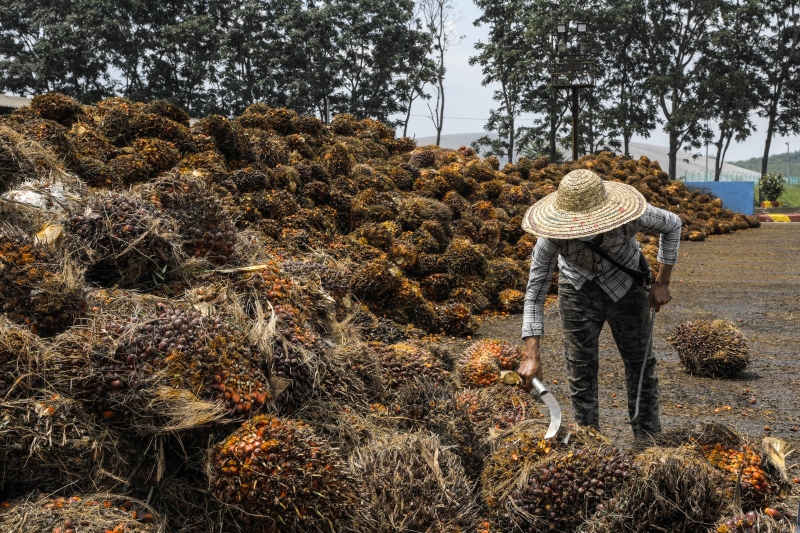 Malaysia plans to move out of human labor in palm oil production

Malaysia – With intensity of moving towards high level of automation, Malaysia might not need migrant workers to help after all. This is going to become a thing in future, when it comes to labour-intensive sectors such as plantations to reduce dependence on migrant labour.
According to Plantation Industries and Commodities Minister Datuk Zuraida Kamaruddin, the move would involve the introduction of modern technology. The target is to achieve this in a span of three to five years.
Ms. Datuk Zuraida Kamaruddin has confirmed that her ministry is conducting tests on various equipment designed for the various processes in plantations. "We want to find equipment that is best suited for the sometimes-undulating topography of our estates," she said. One of the equipment being tested is the "spider system", that comprises a truck with five arms and a conveyor belt, used in the harvesting process. With the system, the workforce can be reduced by 30% to 40%.
Related Posts
Migrant population has been increasingly troubled due to Covid-19 restrictions and loss of work. However, her government has been accused of encouraging child labor too. In her defense, she has said, "Is there any harm in children picking palm kernels to earn some pocket money? In Europe and the United States, children are allowed to work before or after school to earn extra money," she said, adding that such NGO should give Malaysian authorities a chance to explain.
Looking at these accusations, the government said they have decided to reduce dependency on migrant labor in the palm oil business. As it is, palm oil is the highest export grosser for Malaysia. Speaking of competition in the West, the "Their products such as corn oil, soy oil and sunflower oil are actually not as healthy as palm oil," she said, adding that major edible oil producers in the West had to compete with Malaysian palm oil producers for market share. So, it is in all fairness that the palm oil production will continue to grow, even if that means sacrificing human labor.