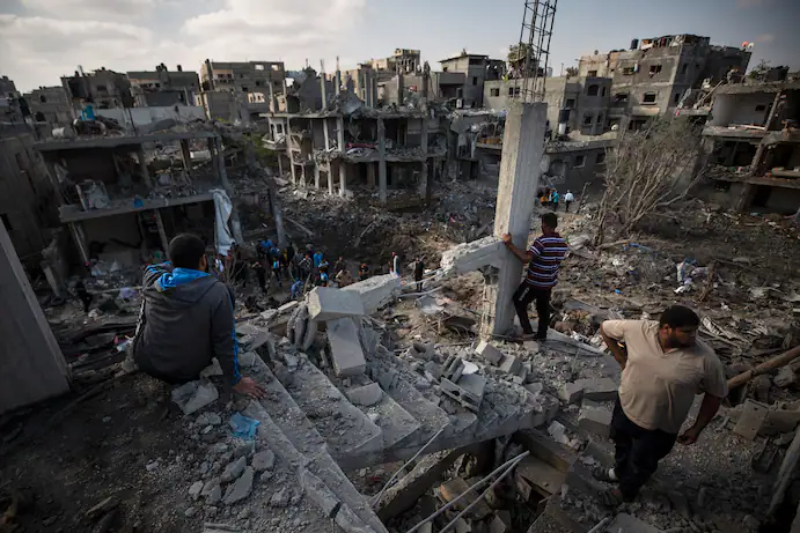 israel gaza strip
Global watchdog Human Rights Watch has said that Israel may have committed international law violation during the 11 days long fight with Hamas in Gaza Strip in May, and that may amount to war crimes.
The New York based group released its report on Tuesday that highlighted three airstrikes by Israel. These airstrikes on Gaza were at places "where there were no evident military targets in the vicinity" and they killed 62 civilians. The group said that Palestinian militant group Hamas too had "committed unlawful attacks" during the conflict and fired 4,300 rockets and mortars into communities in Israel. The report on violations by Palestinian group would be released in August, said Human Rights Watch.
The deadly horrific exchange of rockets and airstrikes from Hamas and Israel sides in May led to killing of 250 Palestinians in Gaza, including 67 children. 13 residents of Israel too died including 2 children. Majority of rockets launched from Gaza were intercepted by Iron Dome air defense system of Israel. But Palestinians had nowhere to flee from Israeli airstrikes.
Related Posts
Israel has accused Hamas of intentionally launching attacks in residential areas, while argued of taking all precautions and targeting only Hamas establishments.
All crossings in and out of Gaza are controlled by Israel, which in itself is a major humanitarian crisis. There is severe shortage of electricity and clean water in Gaza for this reason, along with extreme shortage of economic opportunities.
"Israeli forces carried out attacks in Gaza in May that devastated entire families without any apparent military target nearby," said Gerry Simpson, associate crisis and conflict director at Human Rights Watch. "Israeli authorities' consistent unwillingness to seriously investigate alleged war crimes, as well as Palestinian forces' rocket attacks toward Israeli population centers, underscores the importance of the International Criminal Court's inquiry."
Report by Human Rights Watch can be used actively in the ongoing investigation by International Criminal Court (ICC) that is looking into violations by both Palestinian armed group and Israeli forces.