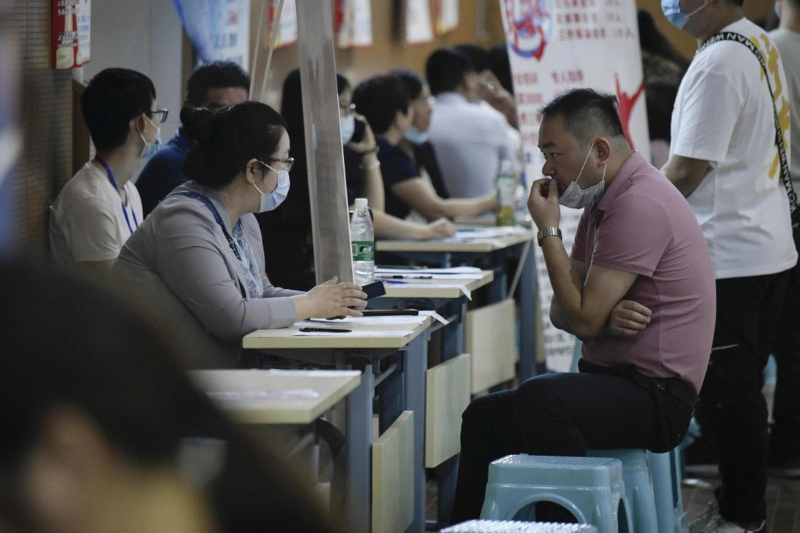 china employment
China's unemployment rate has dropped from last year's pandemic peak but as per a Bloomberg report, the dropping unemployment rate has masked a lack of jobs for fresh graduates.
There is a shortage of skilled manufacturing workers and several underlying problems in the labour market that are covered by this spike in the employment rate in China.
The urban jobless rate dropped to a two-year low of 5% in May. Official data, last week, showed that the unemployment for those between the age bracket of 16-24 was more than double that at 13.8%.
This bracket captures graduates from schools and colleges.
The official unemployment rate for urban workers in China surged to historic levels due to the coronavirus pandemic. It touched a two-decade high of 6.2 per cent in February. The figure, since then, has gradually shrunk to near pre-pandemic levels.
Beijing has set a target of creating more than 11 million jobs in 2021.
China's jobless indicators are released on a monthly basis, but it is hard to assess the real state of China's unemployment situation because they only comprise a small part of the job market.
Anecdotal reports imply a mismatch between jobs and skills in the economy. This could prevent the jobless rate from declining further. Part of the reason is China's unstable economic growth with services industries. It is more suited to graduate jobs and slower to recover than manufacturing.
Fu Linghui, a spokesman for the NBS, said last week said the phenomenon of fresh grads struggling to find businesses and companies having challenges to hire workers to exist at the same time".
The National Bureau of Statistics, last week, said that about 14 million people are to enter the urban workforce this year. These are about 9.09 million are graduates.
Related Posts