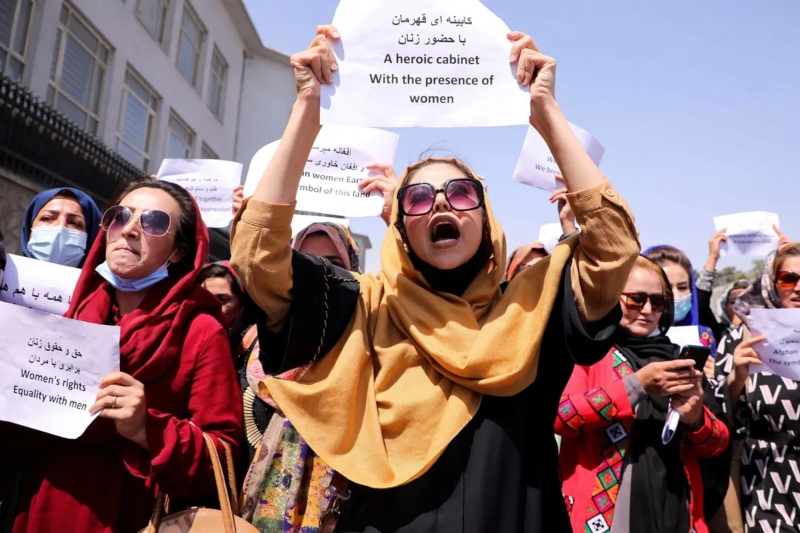 afghan women strive for their rights, in return they get kidnapped, hurt or killed

Afghanistan – Women in Afghanistan are in great danger. They are continuously struggling for their rights on the streets.
While many women are just trying to stay alive. If they raise their voice, they either get kidnapped, injured or killed.
Arizoo, a program co – ordinator for a global organization that supports women war survivors.
She lives in the Afghan province of Nangarhar with her family. She feels despondent because the Taliban refuses to keep commitments to protect girls' and women's rights.
"I still feel in danger here," Arizoo remarked. "My parents won't let me leave the house unless it's for a really urgent reason. Almost every woman and girl is in the same situation. They don't want to be kidnapped or killed."
Since the Taliban took power in August, the 29-year-old, who operates from home for Women for Women International, claimed women have been subjected to a "bunch of restrictions & limits."
They are still barred from government jobs, sports, and independent travel outside of their city.
While some women are still fighting for equal rights on the roadside, the majority are simply trying to stay alive.
Related Posts
"Some women who have raised their voices for women's rights faced negative reactions from the de facto government," Arizoo remarked. "Some of them have been kidnapped, and some have been injured, causing other women and girls to stop raising their voice."
Apart from safety concerns, Afghan women continue to struggle for access to basic necessities such as food, medical treatment, clothing, and shelter.
Arizoo and her colleagues conducted phone surveys and found that every woman they spoke with had encountered food shortages and financial distress.
"Every day, Afghan people starve to death," Arizoo remarked. "The vast majority of individuals have had to sell their children in order to survive."
"I am extremely concerned for the people of my country, since we are running out of money and the cost of basic necessities such as food and medicine is increasing tremendously."
Arizoo feels hopeless. She is concerned about the future of women in Afghanistan as the Taliban continues to restrict their rights.
Arizoo also said, "All of the promises made by the de facto government have been broken. And this is only the beginning".
"I believe that in the future, girls will encounter numerous challenges and restrictions. I'm depressed and hopeless, not just for myself but for all my Afghan sisters."