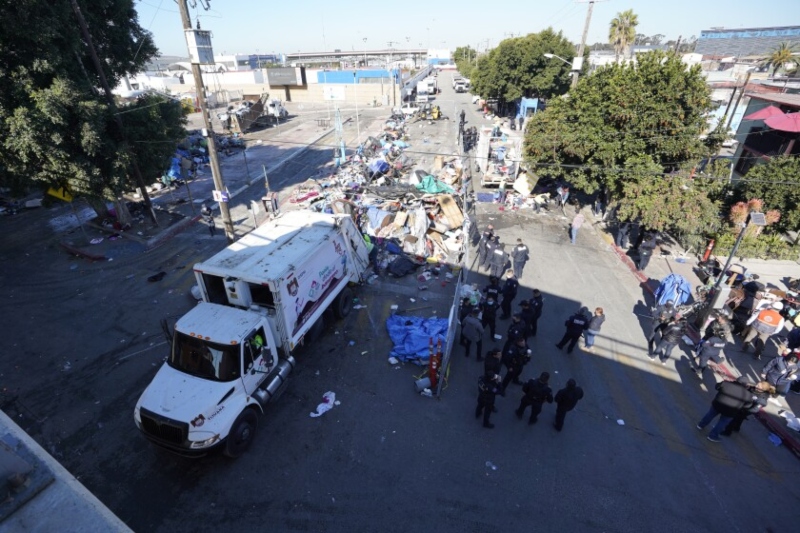 mexico administration clears el chaparral plaza of 400 migrants

Mexico – The Mexican authorities have now cleared up a camp that was setup in El Chaparral Plaza almost a year ago. It has become common practice for migrants to set up camps near border areas. This one had cropped up near the exit from the PedWest crossing at the San Diego-Tijuana border.
It is considered inhuman to remove them in the wee hours of the morning cold. But that is how the 400 plus migrants were relocated last week, when the municipal and state governments and the National Guard jointly decided to take this step. Those relocated mostly comprise Mexicans and Central Americans. The operation started before 5 a.m. and involved dozens of officers from different law enforcement agencies putting in their effort including the National Guard, to relocate migrant settlers.
Related Posts
Buses took some to shelters. Others left the area on their own. All are aware that this can't be a permanent place of dwelling. It was a peaceful movement. Police officers were not armed, and the operation was planned throughout the week, said Tijuana Mayor Montserrat Caballero. Some police carried riot shields and batons as families boarded buses.
Maybe the sight of such equipment, ensured families with women and children remained calm. City officials had previously said they would not remove the migrant camp by force. According to the formal statement made by Caballero, the relocation was needed to guarantee the safety and health of those who had been living at the site for months. The US side of the border crossing has been closed since April 2020. People have been camping in the hope of getting quick access as soon as the border opens. The pandemic is one reason that this has not happened. The population had expanded hugely in the camp. But then, it had to be fenced once the Biden administration reversed the predecessors 'Remain in Mexico' program, to be fair to those who had already applied and could be processed.