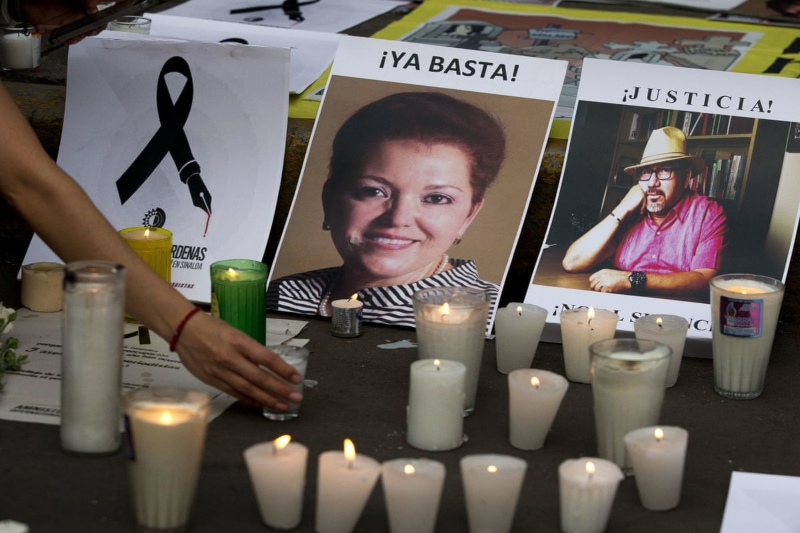 mexico press struggles amid hostile environment and recent wave of murders

Mexico – is known to be hostile, exceedingly and aggressively so, against its journalists. As the journalists try to function in a dangerous environment wherein, they are in constant war against forces that attempt to mute their voice, a recent wave of murders has taken a different tangent to this ever-going fight. And the journalists in Mexico are now fed up. Tuesday night journalists and human rights activists across the North American country demonstrated demanding press freedom in the country. Fallen fellow journalists were paid tribute as the protesters held signs reading "journalism at risk".
This month alone, three reporting journalists have been killed in the country. Journalist Lourdes Maldonado López, who had told Mexican President Andrés Manuel López Obrador in 2019 that her life was in danger, was shot to death inside her car on Sunday. Alfonso Margarito Martínez Esquivel, a photojournalist, was shot in the head outside his home on January 17. Jose Luis Gamboa, the founder and editor of two news websites, was killed on January 10.
Related Posts
In 2021, nine journalists were killed in Mexico. According to the Committee to Protect Journalists (CPJ), Mexico is one of the most dangerous countries to practice journalism in the world. But recent weeks have witnessed a worsening situation for reporters in the country. CPJ Latin America and Caribbean program coordinator Natalie Southwick said that currently Mexican journalists are being forced to think about "whether what they're doing is worth the risk to their families."
Earlier this month The Guardian published a story that highlights the worrying situation. "In some regions journalists have become so fearful of being abducted and killed that they take DIY dental impressions and leave them in the freezer at home before going out to report so relatives can identify their remains." 
"I've never felt this worry, not just for me, but a fear for others, for those people I've been working with for 20 years," Aline Corpus, a Tijuana correspondent, said. "You feel like an easy target," Corpus added. "It's difficult to put into words what the killings have done," Vicente Calderón, editor of news site Tijuana Press told CPJ. "You would think that, as journalists who go out every day to cover crime and violence in this city, we would have built up some kind of immunity, but even though we have gotten used to [violence], it has still been a terrible week with lots of introspection."