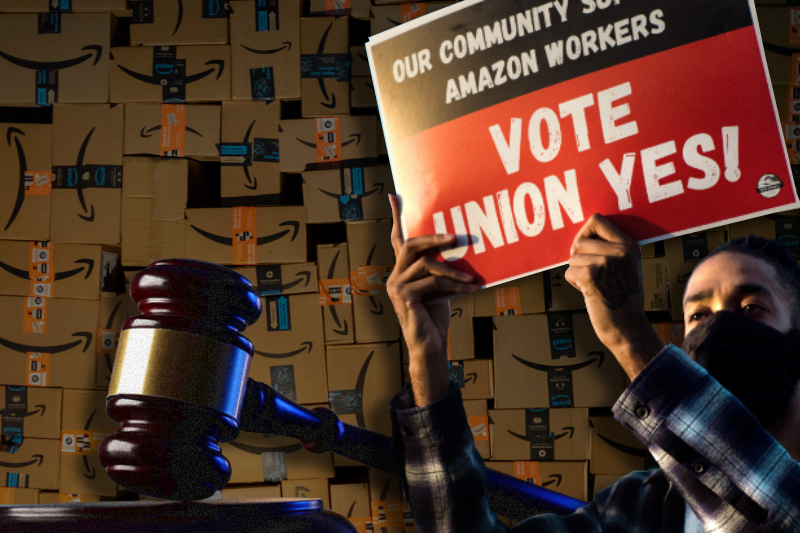 NY Amazon facility allegedly threatened workers seeking unionization

United States – The National Labor Relations Board (NLRB) has claimed that workers at an Amazon facility located on Staten Island, New York were threatened, interrogated and surveilled by the company. These workers are seeking unionization at the Amazon facility. The US labor board prosecutors have said that this conduct by Amazon.com Inc. has directly violated federal labor law.
The allegations have been rejected by company. "These allegations are false, and we look forward to showing that through this process," Amazon spokesperson Kelly Nantel said in an email.
The NLRB had confirmed on January 27 that the Amazon Labor Union had managed to gather enough signatures to enable holding a vote on whether to unionize the Amazon's Staten Island facility. The workers at the facility submitted more than 2,500 signatures who were in favor of holding a vote in this direction.
Related Posts
Doing this they cleared the NLRB threshold of 30 per cent of workers that the potential union would cover. In this case the number is 5,000 employees. But the number was deemed unrealistic by Amazon. "We're skeptical that there are a sufficient number of legitimate signatures, and we're seeking to understand how these signatures were verified," a company spokesperson said.
According to U.S. labor law, workers in the country are given the right to take collective action aimed at improving their working conditions, including union organizing. But the labor board, that has responsibility of prosecuting those who violated that law, has no authority to make companies pay punitive damages. The NLRB's general counsel, appointed by President Joe Biden, Jennifer Abruzzo has told regional directors to seek "the full panoply of remedies available" to address any wrongdoing in this direction, for instance making the company read a notice to employees about their rights.
Amazon is struggling to manage unprecedented labor activism, something it never experienced in past. Last year, the company had managed to defeat an effort to unionize its facility in Bessemer, Alabama. But the labor board issued orders to hold fresh election after the Retail, Wholesale and Department Store Union appealed the outcome of decision in favor of Amazon. It was alleged that Amazon had intimidated workers, charges which the company denies.