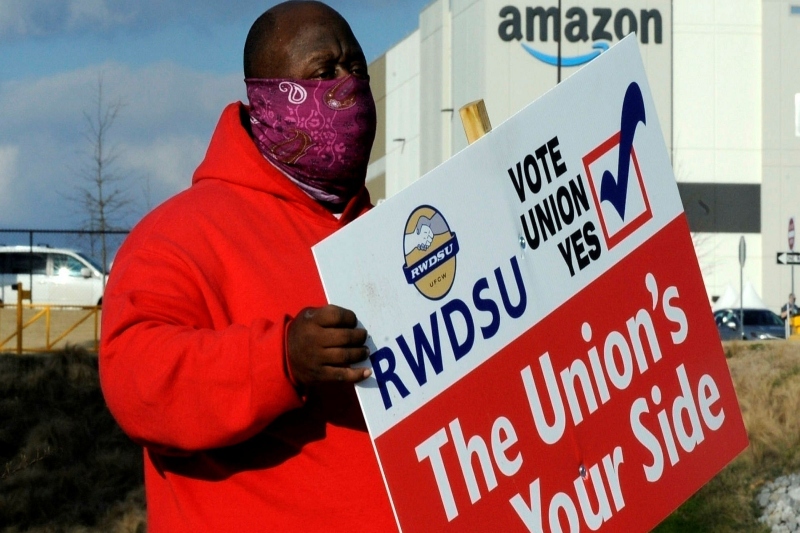 a do over election for alabama's amazon workers

United States – In a significant blow to the Amazon and a major win for its workers in Alabama, the National Labor Relations Board (NLRB) has ordered a do-over of union election based on objections that were raised in April. Amazon gets a sour blow that had spent last one year in aggressive campaigning trying to influence its workers in warehouse in Bessemer, Alabama to reject the labor union. The date for second election hasn't yet been decided with no decision on whether it would be a mail in or in person ballot. The April election result had rejected the union which led to a rare call for re-election by the Retail, Wholesale and Department Store Union (RWDSU), which led the union organizing movement.
The regional director of NLRB, Lisa Henderson's 20 page long decision on matter focused majorly on installation by Amazon of a U.S. Postal Service mail box at the main employee entrance of warehouse. This might have given a false insinuation that company was conducting the election. Henderson further rejected Amazon's claim that this step by company was to make the election process more convenient for workers.
"The employer's flagrant disregard for the board's typical mail-ballot procedure compromised the authority of the board and made a free and fair election impossible," Henderson said in her decision. "By installing a postal mailbox at the main employee entrance, the employer essentially highjacked the process and gave a strong impression that it controlled the process. This dangerous and improper message to employees destroys trust in the board's processes and in the credibility of the election results."
Related Posts
During the first vote that was conducted in April, RWDSU charged the global giant with an "illegal misconduct", thereby calling for a new election. In August, NLRB hearing officer determined that Amazon was guilty of violating labor law and forwarded recommendation to Henderson to conduct new election.
Kelly Nantel, spokesperson of Amazon said calling the decision 'disappointing', "Our employees have always had the choice of whether or not to join a union, and they overwhelmingly chose not to join the RWDSU earlier this year." Nantel added, "It's disappointing that the NLRB has now decided that those votes shouldn't count."
RWDSU has celebrated the decision by NLRB. Stuart Appelbaum, president of the RWDSU said, "Today's decision confirms what we were saying all along — that Amazon's intimidation and interference prevented workers from having a fair say in whether they wanted a union in their workplace — and as the Regional Director has indicated, that is both unacceptable and illegal." He added, "Amazon workers deserve to have a voice at work, which can only come from a union."
The Amazon workers at Bessemer warehouse in Alabama said that they have been working for 10 hour long shifts standing on their feet in the online orders packing and shipping department, with no breaks being given. A win for worker union would mean that it could force Amazon to take measures for better treatment of workers and also increase the pay.