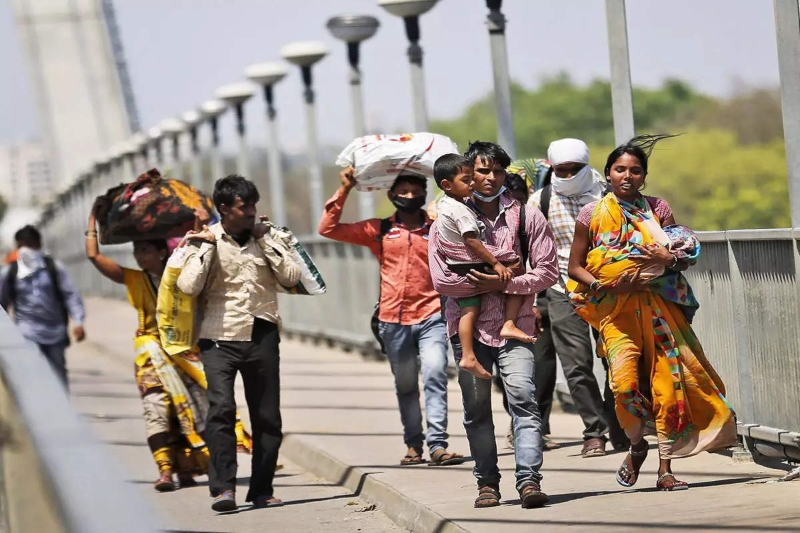 indian labor ministry has now decided to open monitoring centers across india that will help to track the movement of migrant workers

India – Keeping in mind the plight of migrant workers, the Indian Labor Ministry has now decided to open 21 monitoring centers across India that will help to track the movement of migrant workers and/or address their job-related grievances (if any) This is to ensure that the past horrors of losing work and livelihood does not repeat itself as the number of cases for Omicron and Delta are on the rise in India.
Further, the Centre has also advised all state commissioners to reassure the migrant workers amidst the third wave; something that got missed in the first and second wave. Hopefully, this is going to prevent an exodus while requesting them to maintain records of returnee migrant workers, (if any), the labour ministry said in a statement.
Related Posts
Towards this, the Labor Ministry Sunil Barthwal had held a virtual meeting to speak and consult with representatives from all states and union territories with regards to migrant workers and other workers in general, particularly so as the Centre can gauge the movement of workers on the ground, if any, as on account of rising cases of Covid in the third wave.
Stressing on human accountability, Barthwal has compelled that data might be entered about such migrant workers well in time in the e-Shram portal, so that no one gets left out and a record of existing and new migrant workers can be maintained. "This will facilitate the state governments to plan and deliver financial and other benefits to them at appropriate time," he said. Further, the secretary advised the labour surplus and labour deficient states to work in close coordination to tackle any migrant workers' situation, if need arises. Labour ministry said that the state labour commissioners have confirmed to the Centre that the functioning at construction sites, factories and establishment has remained undisrupted.