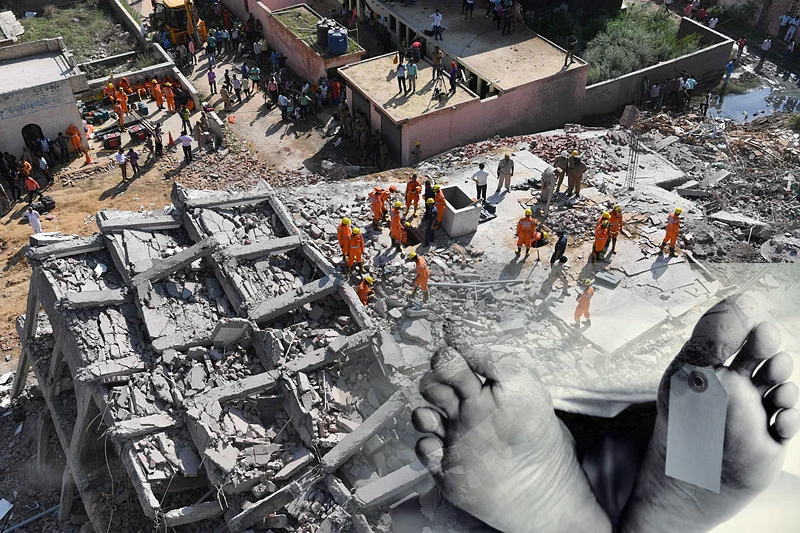 india around 42 migrant workers died in gurugram

India – According to police data, at least 42 migrant workers died in Gurugram between January 1 and July 30 of this year, 20 of whom perished in accidents at construction sites. This statistic highlights the need for stricter adherence to safety regulations, despite claims from laborers that many incidents go unreported.
The remainder of the 22 deaths, according to the police, were reported in offices, workshops, factories, and other workplaces.
The majority of the construction-related fatalities, according to officers with knowledge of the situation, have occurred at sites outside of the city, including Badshahpur, Manesar, Pataudi, and Farrukhnagar, as well as in areas near the Southern Peripheral Road (SPR) and Dwarka Expressway, where the majority of the current construction is taking place.
They stated that deaths resulted from a variety of mishaps, including electrocution, falling from multi-story structures, and dirt caving in as basements were being dug out. Investigations in the majority of these cases revealed that safety regulations were not being observed.
In the most recent incidence, four daily wage employees who were working at Sector-77 in Gurugram fell from the sixteenth storey of a building that was under construction on Tuesday evening, killing four of them and gravely injuring one more. The five employees were connecting a heavy lift tower crane to the sixteenth floor of Tower E, which is still under construction at the housing complex, according to DTCP officials who visited the scene shortly after the event.
In Behrampur Khatola, Sector 73 of Badshahpur, two daily wage employees were killed on July 25 and one was seriously hurt on Sunday after an adjacent iron factory's perimeter wall allegedly collapsed on them. Then, on June 10, two laborers perished and another was injured when an iron beam allegedly snapped and fell as workers were shuttering the 19th floor of a commercial building that was still under construction in Sector 65.
Trade unionist and former Bhavan Nirman Kamgar Union secretary Rajender Saroha claimed that at numerous construction sites, employees are not provided with even the most basic safety equipment, such as harnesses, and that safety nets at high-rise buildings are frequently absent.
Related Posts
"With the exception of two or three organizations and locations, both developers and contractors frequently place less importance on worker safety and a safe working environment. In order to prevent other deadly accidents, the labor department must carefully enforce the laws and the administration must also keep an eye on the project sites," the official said.
On Wednesday, the district administration announced that a four-person committee had been assembled to look into the occurrence on Tuesday and that work had been suspended there.
The next-of-kin of each victim would receive 10 lakh as compensation, according to Gurugram deputy commissioner Nishant Kumar Yadav, who also claimed that they are calculating the amount to be handed to the injured worker.
Construction workers' union Bhavan Nirman Kamgar Union's district president, Dharmvir Saini, claimed that smaller sites frequently try to cover up accidents, sending the workers—who lack institutional support—back to their home villages with little to no compensation. ]
The families of the deceased workers are frequently given lower settlements and told to remain silent. The support and options available to migrant workers are limited, according to Saini.