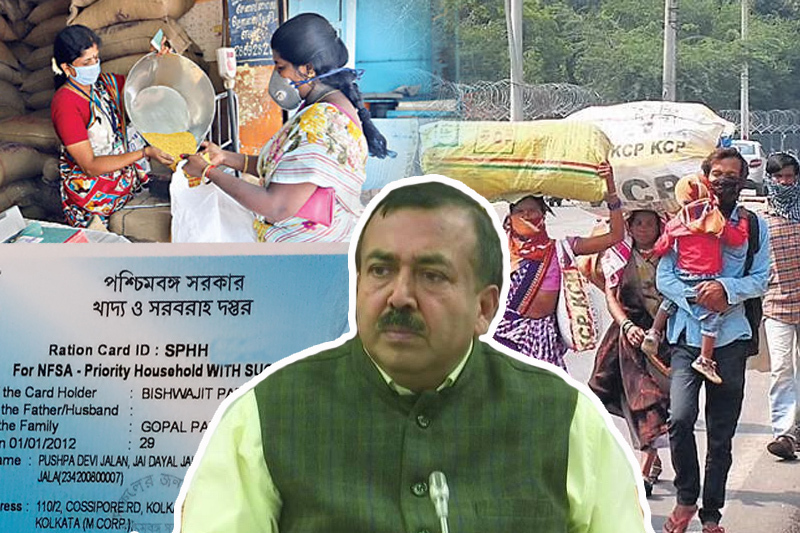 portal to ensure ration cards for migrant workers

India – The government will develop a national site for the registration of these workers in order to supply subsidised foodgrains through the public distribution system to migrant workers in cities who do not have ration cards.
A significant portion of the migrant population living in cities, according to Sudhanshu Pandey, secretary of the ministry of food and public distribution, does not have ration cards because they lack identification, which prevents them from receiving food subsidies under the National Food Security Act (NFSA).
The centre would notify the appropriate states on granting ration cards to workers involved in a variety of activities such as maids, security guards, construction workers, etc. in cities through online registration and followed by biometric authentication.
According to the Census 2011, the NFSA offers the broadest coverage to roughly 813 million people. However, the NFSA currently covers about 797 million people.
According to Pandey, the NFSA may potentially add another 16 million beneficiaries by giving ration cards to the city's migratory population.
According to Pandey's statement to FE, in response to our discussions with the states, they have consented to distribute ration cards to these workers. Under the one country, one ration card (ONORC) policy, which was introduced in 2019, migrant workers can get NFSA benefits once ration cards are issued in their respective states.
Related Posts
By utilising the ration card issued in their home states or UT following biometric validation, ration-card holders are able to purchase their allotted amount of grain from any fair price shop in the nation. This has been made possible by the ONORC.
778 million portable transactions have been processed by ONORC since its debut, with 60% of those transactions falling under the NFSA and the remaining 49% being under Pradhan Mantri Garib Kalyana Anna.
In accordance with a statement released by the food ministry, beneficiaries have already received subsidised food grains worth Rs 43,000 crore through the mobility of ration cards.
According to estimates, 60 million individuals move seasonally to different states in pursuit of work. In addition, almost 80 million individuals relocate inside their own state, from one district to another.
The Center had asked states to issue the ration card in a bilingual format—local language and Hindi or English—in order to ensure ration-card portability. Beneficiaries were given 10-digit standard ration card numbers, the first two of which represented the state code. To generate individual member IDs for each beneficiary on a ration card, a set of an additional two digits were added to the ration card number in addition to the original 10 digits.