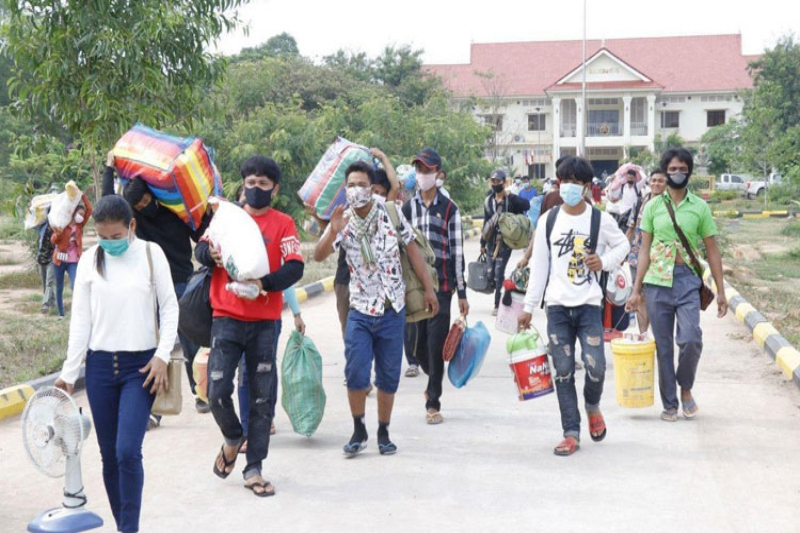 cambodia migrant workers
In order to make space for migrant workers, the Cambodian military has started moving out the migrant workers who were already living in the allotted spaces of the south asian country.
The military is involved in shifting or moving out some 10,000 migrant workers quarantined at its seven Thai border provinces and now they will be brought to their home quarantine centres starting from Sunday. They are being quarantined in these facilities and being continually monitored to take care of Covid-19 infections.
Related Posts
Earlier the Prime Minister Hun Sen had ordered the state officials including the governors and other leaders to free rooms at the limited quarantine facilities and make arrangements elsewhere to make space for other migrant workers. It is after this decision that the call to empty the temporary quarantine facilities has been taken.
Talking about the decision, the defense minister of the country Tea Banh talked to local media saying that this was not something new that was being done in the country. "For now, those who arrived earlier and were placed at quarantine sites along the borders for over a week now, have to be moved out and sent to centres in different provinces," he said.
Given the risks of the pandemic, migrant workers are being treated very poorly across the world. Their safety and security has been compromised since 2020.
In Thailand, these migrant workers are not even allowed to continue their quarantine at their home provinces. He said there were now more than 10,000 people in the affected quarantine centres at the border provinces.
The military is using the available 200 trucks as of now but the minister has confirmed that if needed it will also use more buses to transfer the migrants. This is after the situation in Thailand is getting worse with every passing day especially after the Delta variant was detected in the country. Cambodia is in a better state than Thailand having recorded about 83,000 Covid-19 cases so far with 1,585 deaths.