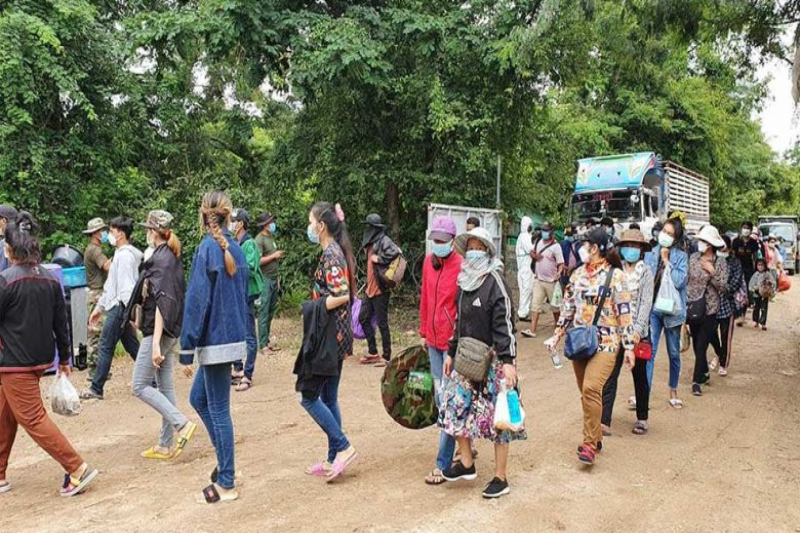 covid19 treatment to migrants
On August 25, in a virtual meeting, the Government of Cambodia requested Thailand to provide covid treatment to migrants. Large numbers of workers continue to return home from Vietnam and Thailand, many of whom carry the disease.
Lieutenant General Seng Thearin, deputy commander and chief of staff for military Region 5, represented Cambodia while Major General Kraipob Chaiyapunth, chief of staff for their first army region, represented Thailand.
Thearin requested Thailand authorities to provide medical treatment for covid if the Cambodian labourers are tested positive. He additionally asked for assistance with migrants who are in Thailand unlawfully yet haven't perpetrated any other crime," Region 5 stated in an official statement.
Vietnam and Thailand are wrestling with significant episodes of the Covid Delta variant, forcing them to impose lockdowns and different limitations that disrupt daily work.
Between the reopening of the borders on August 13 through August 23, an aggregate of 3,789 Cambodian migrants got back from Thailand through the Oddar Meanchey region. Amongst them, 474 were tested positive for covid-19, as indicated by the provincial authority.
Related Posts
The Provincial Department of Information director, Phal Lim, stated that Cambodian labourers, on average around 100 to 200 got back to Cambodia through the same province every day. On August 23, among 238 returning migrant workers, around 20 tested positive for coronavirus.
The amount of labourers entering the territory has not diminished since August 13. More than 5,000 migrants have returned, and around a thousand have been tested positive," he said.
He added that the surge was happening because the Covid-19 flare-up and business circumstances in Thailand had deteriorated just when the upcoming P'chum Ben holiday was approaching, which generally witnesses enormous crowd gathering of Cambodians visiting their parents in hometown.
Moeun Tola, head of worker rights CENTRAL, said as of late that Covid-19 in Thailand was driving Cambodian labourers to return home because jobs are scarce and their workplaces have shut down.
"In Thailand, Covid-19's delta variant has caused a distress in migrant workers lives, and it is compelling Cambodian labourers to head back home in order to survive," Tola added. Tola upholds the Cambodian government's decision to resume borders for labourers to return for monetary reasons, and the primary goal is for them to get clinical treatment if Covid-19 infects them.