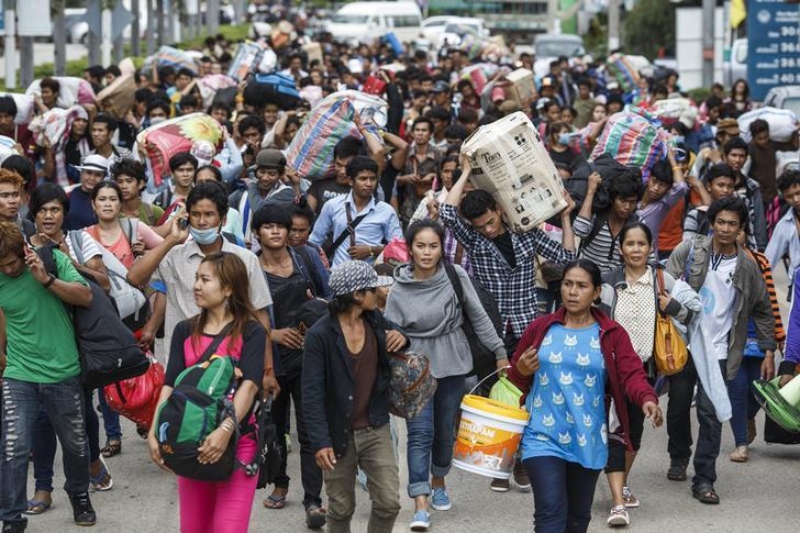 cambodia women migrant workers
Migrant workers across the world are bearing the brunt of border restrictions and lockdowns imposed due to the COVID-19 pandemic. At the same time, they are at high risk of exposure to COVID-19 due to a lack of favourable safety facilities for them in many regions.
Recently, the United Nations raised concerns related to the discrimination faced by Cambodian women migrant workers while accessing migration services through both formal and informal channels.
Taking cognisance of their plight, Pauline Tamesis, the United Nations (UN) resident coordinator in Cambodia, launched the "Safe and Fair" initiative to provide necessary assistance to Cambodian women migrant workers. Funded by the UN and the European Union, the initiative is aimed at empowering women migrants and provide them with legal and other gender-based violence (GBV) services to enhance their working conditions.
UN official calls for govt's support
As part of the initiative, Tamesis called on the Cambodian Ministry of Labour and Ministry of Women's Affairs to continue their support and coordination with relevant ministries and UN projects aimed at addressing multiple forms of structural and discriminatory barriers faced by women migrant workers.
Related Posts
She added that the initiative will help women migrant workers in gaining equal access to relevant services such as healthcare facilities and social security, particularly in the aftermath of the COVID-19 pandemic.
At the same time, the UN official urged governments across the ASEAN region to cooperate with the efforts of relevant authorities to improve structures and systems of labour migration with the aim of providing necessary safety measures and labour benefits to both documented and undocumented women migrant workers
Cambodian workers in Thailand
Cambodia sends thousands of migrant workers to neighbouring countries, including Thailand and Laos. Notably, Thailand remains one of the most prominent destinations of employment for Cambodian migrant workers.
Last month, the Thai government imposed border closure to overcome the rising cases of COVID-19 infection in the country. Border closure and lockdown measures took a heavy on Cambodia's migrant workers' community as a majority of them lost their source of livelihood. Furthermore, hundreds of workers were stranded on the Thai borders in the hope to return to their home country.
As some workers managed to return from Thailand, Cambodian authorities ensured various measures to safeguard them in view of the pandemic situation. Last week, Cambodia set up quarantine facilities across the Thai border provinces to take care of workers returning from Thailand. There are more than 1.8 million Cambodian migrants working in Thailand, out of which over 400,000 are employed illegally in various sectors such as construction companies, agriculture and domestic households.