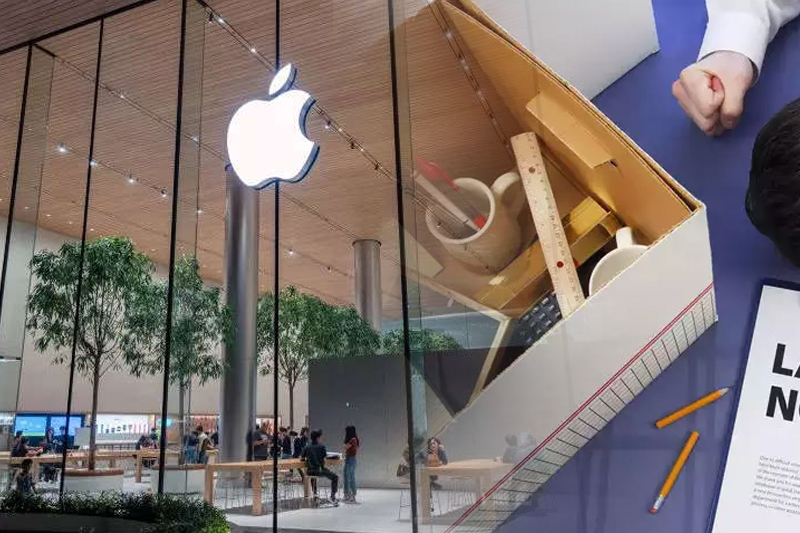 apple lays off many contractual workers amid recession fears
Last updated on January 13th, 2023 at 04:48 am
US – The American tech giant, Apple, laid off many of its contract-based recruiters in the past week amid the fear of recession. People aware of the matter said that nearly 100 contract workers were laid off in a rare move for the world's most valuable company.
Those contractual workers were responsible for hiring new employees for Apple. However, Apple decided to lay off these workers as part of a push to rein in the company's hiring and spending. The company told these workers that the cuts were made because of the changes in Apple's current business needs. Terminated workers were told they would receive pay and medical benefits for two weeks. Reportedly, employers asked employees to leave their job at Apple's offices in Texas and Singapore.
Earlier, Apple's Chief Executive Officer (CEO), Tim Cook, confirmed during Apple's earnings conference call that his company would be more "deliberate" in its spending amid recession fears.
Related Posts
According to media reports and various sources, Apple retained recruiters who were full-time employees. Apple also did not fire all of its contractors. Apple has decided to slow down the hiring process. Contract workers usually receive fewer benefits than full-time workers at the company.
Other companies have also laid off employees or slowed hiring in the current economic downturn. In recent months, Meta Platforms Inc., Tesla Inc., Microsoft Corp, Amazon.com Inc., Oracle Corp, LinkedIn, Twitter, Nvidia, Snap, Uber, Spotify, Intel and Salesforce have slowed down the hiring process.
According to media reports, Google employees are also "fearful of layoffs" after the company slowed the hiring process this month. Google executives have also warned workers to either boost performance or prepare to leave the job.
In 2019, Apple fired a large group of contract workers in Cork, Ireland. In 2015, the company also fired some contractors on the Apple Park campus.