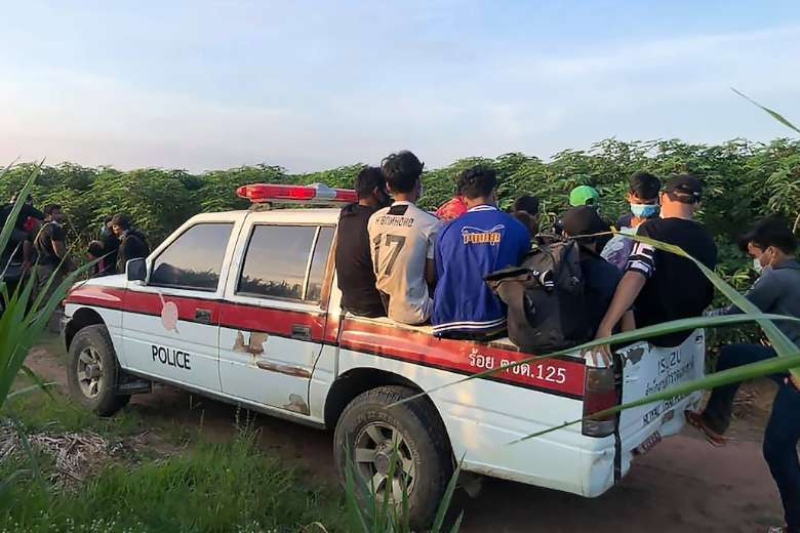 7 cambodian migrant workers illegal arrest by the thai government

Thailand – Several human rights groups have got together and send a letter of appeal to the Thai government over the illegal arrest of seven Cambodian migrant workers by the Ministry of Labor (MOL). The arrest comes despite an amnesty awarded by the Thai government to migrant workers who suffered in Covid times. The amnesty extends to workers giving them the right to peaceful demonstration and right to voice their concerns if their human rights were violated.
The incident occurred while the workers were demonstrating against and submitting a petition to the labour minister demanding better welfare and rights of migrant workers working in Thailand, affected by the Covid pandemic.
The seven Cambodian migrant workers comprised three women and four men. They were arrested and taken to the Din Daeng Police station; of which one is a single mother, who had that morning told her children she would be out to process her work permit, but would come back in the evening. Now, her two children are left motherless having no idea where their mother is.
Related Posts
Apparently, the MOL states that any minister to whom official complaints are made by migrant workers cannot be left ignored. However, in this case, the fact that the migrant workers were giving in a formal complaint and wished it to be recorded officially was completely ignored.
Charges against the seven were for allegedly sounded to be their illegal entering the country, an offence punishable under the Immigration Act BE 2522 (1979). On October 29, a delegation from the Taskforce to Monitor the Provision of Support to Workers in the Construction Sector (including the Workers' Union, the Labour Network for People's Rights and migrant workers) went to meet the Labour Minister, petitioning that the MOL should ensure better welfare and rights to migrant workers, especially, during the Covid pandemic. Additionally, all seven have not been given proper judicial redressal and forced to sign a trumped up chargesheet as well. These were signed forcefully and only later given access to lawyers and interpreters. Their demands have been simply put as need for the appointment of a working committee   on the management of foreign workers from the three countries (Myanmar, Laos and Cambodia) with representation from workers, civil society and the state, need for reduction of fees and expenses (particularly for those migrants with permission to remain in the kingdom), provision of mandatory health insurance and also the repeal of the Social Security Office's regulations, which impede the migrant workers' access to protection under the Workmen's Compensation Fund Act.
Most of them are also human rights activists and might be undocumented in nature. But this was allowed by the Thai government in September, owing to the shortage of migrant working population.