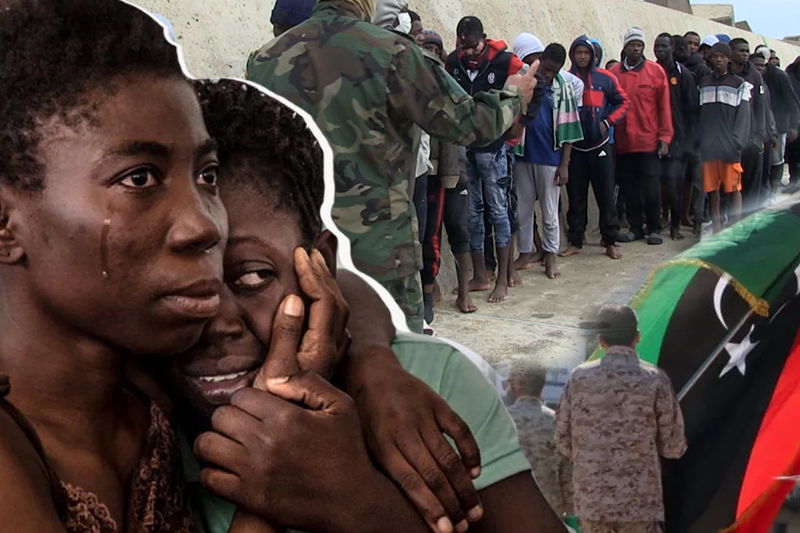 migrants being abused by a new libyan force

Libya – A new Libyan force has emerged – different in being more brutal to migrants than the force from Libya that intercepts the migrants from African nations Libya to reach Europe through Mediterranean.
A Moroccan man shares his experience when his boat full of around 50 migrants was intercepted this more brutal Libyan force. "The armed men beat and humiliated the migrants," he recalled. He shares of then being taken to a detention facility where they all were severely beaten, abused and tortured for months and weeks. He recalls of being repeatedly beaten with rifle butts and whipped with rubber hoses.
Their badges, he said, showed their affiliation to the Stabilization Support Authority.
Related Posts
What is Stabilization Support Authority or SSA?
The SSA is an umbrella group of militias that has recently risen to become one of the prominent forces to carry out "Libya's European Union-aided effort" to intercept and stop migrants from crossing the Mediterranean to reach the European shores.
According to the rights groups and former detainees, the abuse inflicted on migrants in Libya is "taking on a more organized and dangerous nature under this feared new body". Furthermore, the support by European Union is further giving the forces an upper hand and freedom to carry out human rights violations and abuse against these migrants.  
SSA reports directly to Libya's Tripoli-based presidential council and is not subject to scrutiny by the UN and EU with intentions to prevent rights abuses.
The Associated Press had interviewed more than a dozen of migrants. The migrants shared how they were brutally assaulted by the SSA, being detained at a detention facility in the town of Maya on Tripoli's western outskirts. AP noted that "Libya Crimes Watch and Amnesty International separately documented rampant abuses at Maya prison, including torture, rape, forced labor and forced prostitution, as well as severe overcrowding and lack of food and water".