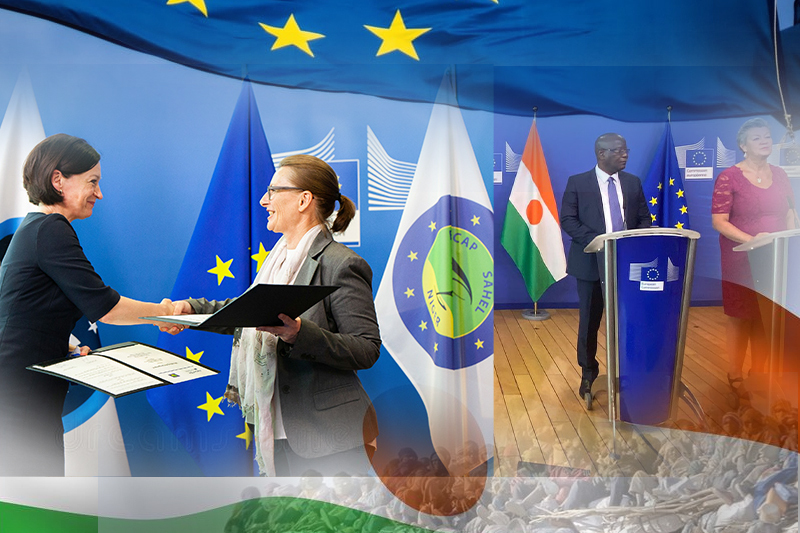 eu strike niger

West Africa – European Union and Niger have entered a new partnership, the announcement of which was made last week on July 15 in Brussels. The "Partnership to Combat Migrant Struggling" has been formulated to "save migrants' lives and prevent violations of their rights, strengthen the management and security of borders, and dismantle the criminal networks that are responsible for smuggling."
"Urgent" partnership
The urgency of this partnership was highlighted by European Commissioner for Home Affairs Ylva Johansson. She added that according to EU, Niger is one of the most significant and largest "transit hub" for migrants who are reaching Europe through Africa.
At the launching ceremony of partnership in Brussels, Johansson expressed empathy towards many people losing their lives while being smuggled through Sahel region's smuggling routes. "Together, we will do all we can to save migrants' lives and prevent violations of their rights, strengthen the management and security of borders, dismantle the criminal networks that are responsible for smuggling and offer genuine economic alternatives to people seeking a better life in Niger," Johansson said.
Niger's Interior Minister Hamadou Adamou Souley said, "The cooperation with the EU would help safeguard migrants, secure borders and contribute to the aim of improving the lives of both migrant and host communities."
Related Posts
The deal between EU and Niger
Under the new partnership between EU and Niger, new information initiatives would be launched highlighting dangers linked with irregular migration. Also under the deal, there would be strengthening of EU-Niger Joint Investigation Team (JIT) through additional funds to combat Niger's smuggling networks.
The partnership is based on renewed EU Action Plan against Migrant Smuggling (2021-2025), said EU, praising Niger's efforts to combat the human smuggling. In a press release document EU noted, "The country has made considerable efforts to tackle migrant smuggling, helping to evacuate individuals affected from Libya and ensuring a dignified return home for irregular migrants. Now, the constructive cooperation between Niger and the European Union … is moving up a gear, from both an operational and a political point of view."
Negotiations between Frontex and Niger
Furthermore, Niger and EU border agency Frontex are in negotiations to improve and strengthen border protection. "Niger and the European Union have worked together as trusted partners in the Sahel region and have been involved in several joint initiatives addressing wider migration and security issues, including the challenges of irregular migration, and focusing in particular on efforts to tackle criminal groups operating in the region in the pursuit of profit," the EU said.