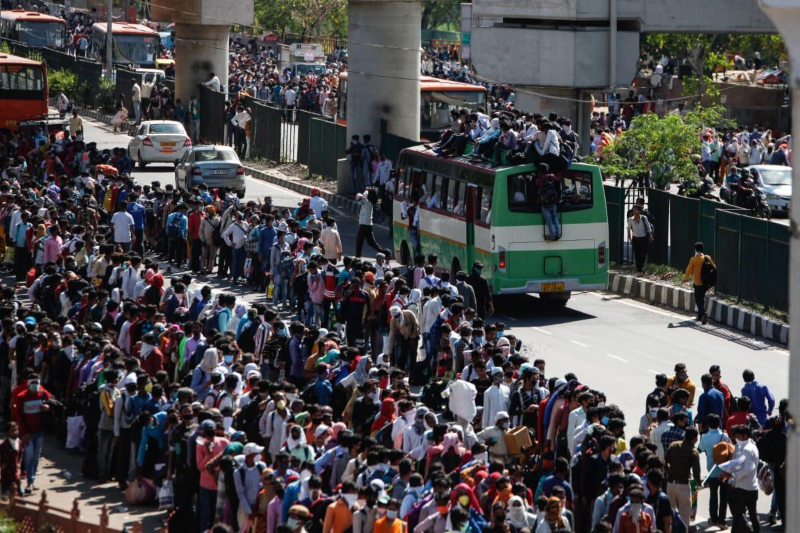 india migrants
Due to the second and disastrous wave of the COVID-19 pandemic, rural migrants in India are subjected to job losses and food insecurities.
As per local media reports, migrant workers from metropolitans like Delhi and Mumbai are packing trains and busses to move back to their native villages due to lockdowns being reimposed.
For the third consecutive day, India has been registering global record cases with the last 24 hours seeing 346,786 new additions.
The country is making headlines all around as footages of mass cremations and hospitals begging for oxygen are flooding social media sites.
Related Posts
Just a few months ago, millions of migrant workers returned from their villages to get work in factories, markets, and restaurants that had begun functioning again after a strict nationwide lockdown imposed in March last year.
Now as the densely populated country is seeing a new round of curbs in cities, the lower sections of the society have been hit with widespread job losses.
Ashish Kumar, a garment factory worker said he was laid off last month as his factory did not get sufficient orders. His tries of finding other employment opportunities receded as businesses went to loss again amid a massive spike in infections.
Between last year's sudden, strict, and nationwide lockdown, the migrant worker has faced food insecurity, unemployment, a wipe-out of his savings, and ascending debts.
Millions of informal and daily-wage workers are in the exact position even though states have been resorting to decentralized Covid-19 curfews and lockdowns with way more caution this year.
Fearful of a strict lockdown like last year, which had suddenly shut off all kinds of transport, migrants were forced to walk hundreds of miles back home. This year they seem in no mood of taking chances and are returning to their villages. Workers complain that they have been offered little or no welfare support as their livelihoods are at sea once again.