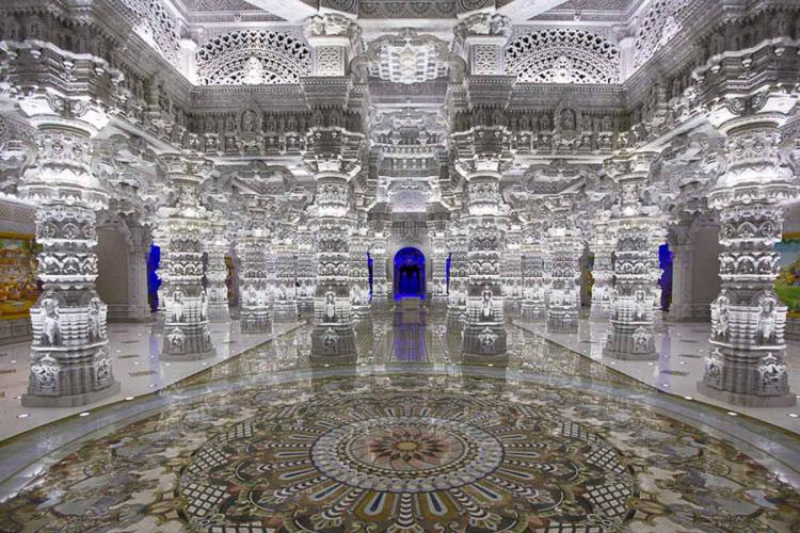 new jersey temple construction
Horrifying incident around a Hindu temple construction shook labor rights activists across the world. Dalit workers are alleged to have been trafficked from India to USA for construction of a New Jersey temple. FBI agents along with other federal agents approached temple that is being built by Hindu organization BAPS (Bochasanwasi Shri Akshar Purushottam Swaminarayan Sanstha). With the exposed act, the organization has violated US immigration and labor laws, that includes charges of forced labor, confiscating immigration documents of workers and providing extremely low wages.
BAPS, that famously labels itself "a socio-spiritual Hindu organization with its roots in the Vedas", has close ties to Indian national party BJP and Prime Minister Narendra Modi. While BAPS representatives have dismissed allegations, BJP supporters have deflected the blame and pinned it on US construction company. Bringing in a new dimension to the allegations, PGMSS (Pathar Gadhai Mazdoor Suraksha Sangh), a temple construction union, has revealed exploitation of Dalit and Adivasi stone carvers who too were brought in by BAPS for temple construction.
New Jersey Department of Labor issued an order on April 30 to halt all construction activities of temple. The department also found worker rights violations at two temples by BAPS in Edison and Robbinsville. The lawsuit has been filed by six Dalit workers hailing from Rajasthan on behalf of around 200 other workers. These workers are Mukesh Kumar, Keshav Kumar, Devi Laal, Niranjan, Pappu and Brajendra. Majority of these workers belong to Scheduled Caste (SC) communities in India.
Related Posts
The lawsuit states that BAPS is responsible for recruiting workers through agents rather than US construction company. CEO of BAPS, Kanu Patel has rejected claims of wage payment by the workers in lawsuit. Blane is being deflected on construction company. PGMSS has said in this relation that all workers at BAPS temples have been in contact with the organization and not anyone from construction firm.
After US Department of Labor officials visited site, at least 90 workers were removed. Temple has been closed until further notice.