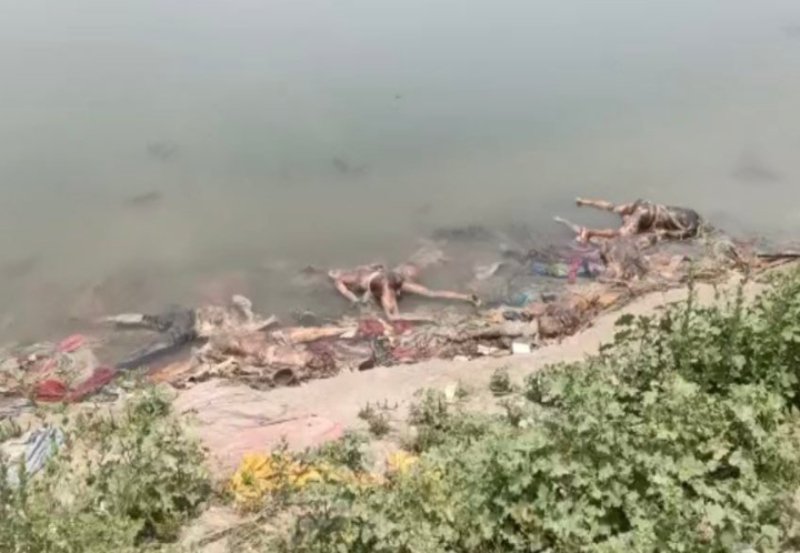 ganga bodies covid19
The National Human Rights Commission (NHRC) Thursday issued notices to the Union Jal Shakti Ministry, Bihar and Uttar Pradesh governments on complaints about several dead bodies found floating in the river Ganga in districts of both states in the past few days.
According to a statement issued by the NHRC, the Chief Secretaries of both UP and Bihar as well as the Secretary of the Ministry of Jal Shakti have been asked to submit a report about the action taken in the matter within four weeks.
"Issuing the notices, the Commission has observed that it seems the public authorities have failed to take concentric efforts in educating the masses and checking the immersion of half burnt or unburnt dead bodies into the River Ganga," the statement noted.
The NHRC stressed the practice of disposing of dead bodies in the Ganga River is in violation of the National Mission for Clean Ganga project of Ministry of Jal Shakti, Department of Water Resources, River Development & Ganga Rejuvenation.
In a complaint dated May 11 to the Commission, the complainant has expressed apprehensions that these dead bodies were of victims of COVID-19. Therefore, disposing of the dead bodies in the river can seriously affect all people dependent on the holy river for their day-to-day activities.
"Even if these dead bodies were not of COVID victims, then such practice/incidents are shameful to the society as a whole as that amounts to a violation of human rights of even deceased persons," the statement added.
Amid an unprecedented surge of COVID-19 infections in the country, several reports have come to light about dead bodies found floating in the Ganga River in various districts across Bihar and Uttar Pradesh. With crematories and burial grounds overburdened due to a spike in deaths due to the virus, there are apprehensions that the bodies were of COVID-19 fatalities from the two states.
Related Posts
On May 13, locals found bodies floating in the river in UP's Varanasi, some of them were half-burnt. As per a PTI report, several bodies, suspected of COVID-19 victims, were found in river Ganga in the Buxar district of Bihar.
"Bodies were found in the Narahi area under the Ballia-Buxar bridge and were many days old," Ballia district magistrate Aditi Singh said.
Earlier this week, the Centre asked state governments along the Ganga to ensure strict vigilance in surrounding areas and prevent people from dumping bodies in the river and its tributaries. Furthermore, the National Mission for Clean Ganga (NMCG) has urged the state authorities to dispose of unidentified bodies of suspected COVID-19 victims according to health and safety protocols.