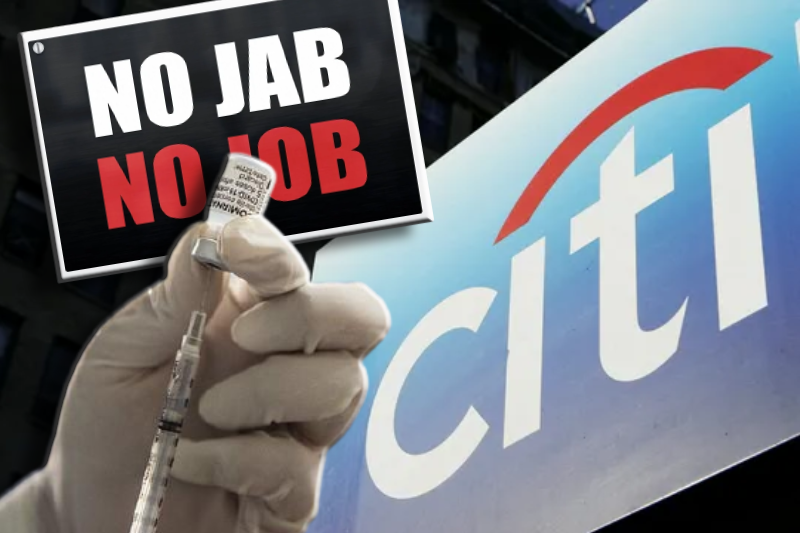 Citigroup to fire unvaccinated workers under 'no jab, no job' policy

United States – Under the "no jab, no job" policy, Citigroup Inc staff in the United States (U.S) will terminate unvaccinated workers at the end of the month. It is the first Wall Street bank to implement a vaccine mandate.
Under the policy, workers must get vaccinated by January 14 if they want to continue the job. If they fail to get vaccinated against COVID-19 by January 14, then they will be placed on unpaid leave and fired at the end of the month unless they are granted an exemption.
The New York-headquartered bank said in October that it would require all U.S employees to be vaccinated against the Covid-19 virus because of the Biden administration Covid-19 policy.
Joe Biden administration policy requires workers supporting government contracts to be fully vaccinated. Employers may face fines for not complying with the rules.
The Biden policy has been widely challenged in the courts. Several GOP-led states and business groups have challenged the rule. They argued that the new policy exposes companies to financial risk for refusing to comply and threatens their workforces.
The Biden administration on Thursday asked the Supreme Court to uphold its vaccine-or-testing mandate for large U.S. companies. He also said that the pandemic killed many workers across the country.
Related Posts
Citigroup staff
Citigroup also said it would examine requests for exemptions on religious or medical grounds. According to a report by The Guardian, more than 90% of Citigroup staff have so far complied with the vaccine mandate. The figure is also rising rapidly. An increasing number of U.S. companies have been using vaccine requirements to protect their employees.
The enforcement of "no jab, no job" on 14 January comes as Covid-19 infections have increased in New York. Recently, the World Health Organisation (WHO) said that covid cases increased rapidly around the globe.