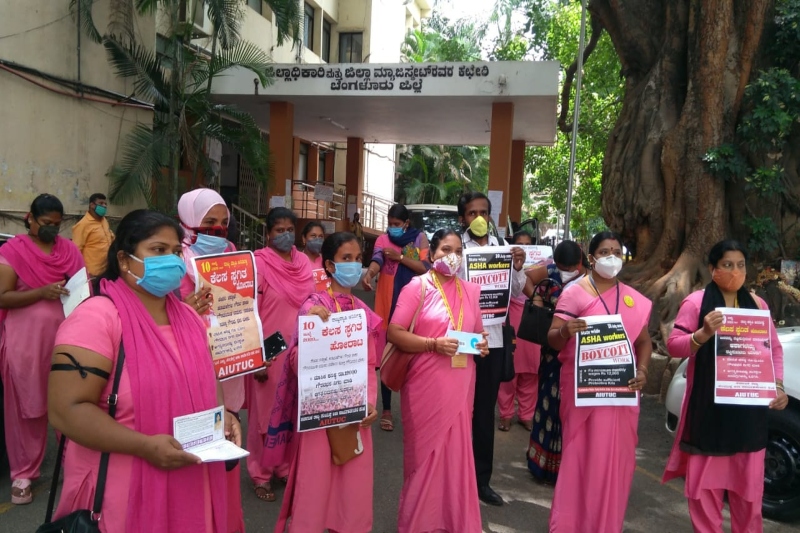 asha workers march to assembly demanding an increase in minimum wages

India – ASHA (Accredited Social Health Activist) workers under the umbrella of the Kerala ASHA Health Workers' Association marched to the Assembly on Thursday seeking an increase in their minimum wages to Rs 21,000.
They staged an agitation in front of the assembly to demand allocation of funds in the Budget to provide them with an increased minimum wage. Their other demands include an increase in the wage for Pulse Polio work from Rs 75 to Rs 700.
According to The Hindu, association president V.K. Sadanandan inaugurated the march. Sadanandan said that the governments' failure to implement the Indian Labour Conference recommendation for a minimum wage of Rs 21,000 was a challenge to the law. The workers said that their current salary is not enough to take care of their families in the wake of increased prices of all commodities.
Related Posts
For Pulse Polio work, ASHA workers were still being given Rs 75, which was fixed 10 years ago. In 2005, the government started deploying ASHAs under the National Rural Health Mission (NRHM). Sadanandan asked, "How could the Left Democratic Front government ignore the demand to increase the amount to Rs 700, the minimum wage for a day?"
ASHA workers are facing work pressure because of the Covid-19 pandemic. They are not even paid an additional amount for their extra work. Sadanandan argued that making cuts in their current paltry honorarium of Rs 6,000 in the name of guidelines was inhuman because they played a vital role in Covid-19 management. At the forefront of India's healthcare system, around nine lakh ASHA workers are working unprotected and poorly paid.
The workers staged an agitation in front of the collector's office on Tuesday. Reportedly, the march which began in front of the Secretariat was stopped by the police near the Assembly.