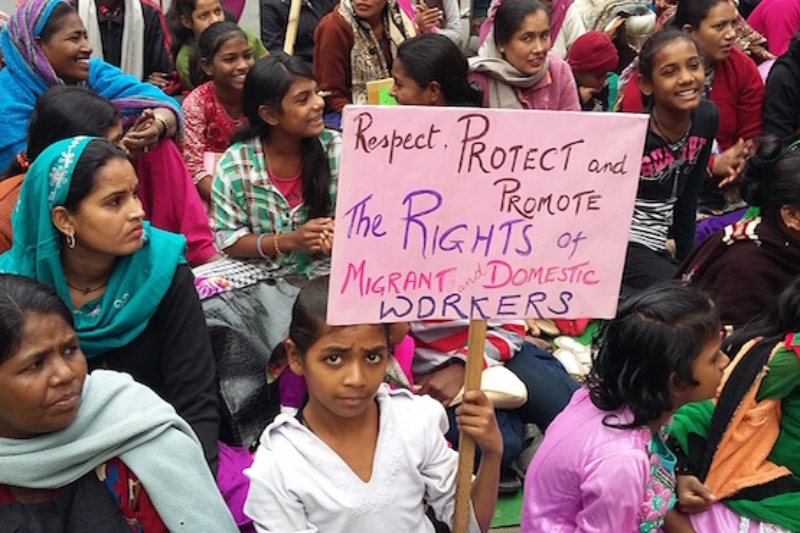 india's domestic workers raise voice against injustice
Last updated on November 19th, 2021 at 04:39 am

India – Domestic workers in India are essentially the backbone of every household in urban as well as semi-urban region, but unfortunately, they are the most neglected workforce in the country. Despite the weather, the domestic workers are seen toiling for long hours in homes, supporting the working families keeping their households in order. The most unfortunate part of this is despite this work, these workers face racial discrimination at workplaces. Furthermore, many are subjected to sexual assault as well, while receiving no social security, leaves or protection of their rights similar to other workers.
Placement agencies have formed a big network across India, supplying workers to the people in need. This is more of a racket that has trapped thousands of girls, majority of who are underage. Working in elite households, these girls suffer in silence while being subjected to long working hours, zero leaves, sexual assault, isolation and poor health.
Related Posts
The prime reason for this apologetic situation in state of Karnataka is lack of a regulatory framework at federal level or any social security process that can provide a safety net to these workers. Instead they are left to fend for themselves and suffer as their plights go ignored by country's judicial system. Though in Karnataka, Unorganized Workers Social Security and Welfare Act was passed in 2008 and a UWSS Board was set up in 2011. But till date social security has not been implemented in the state, leaving lakhs of women without any protection. But states like Tamil Nadu, Maharashtra and Kerala have done an excellent work in this direction.
But after persistent criticism and protests by domestic workers' unions, UWSS initiated a scheme called Ambedkar Karmika Sahaya Hastha for 11 categories of unorganised workers in the state in 2016. A Smart Card was issued to domestic workers post applying, but it did not provide any benefits to them. This shows the sorry state of empathy shown by state government towards domestic workers. In state capital Bengaluru, domestic workers are coming down on streets demanding questions about their welfare, security and zero action by government. The campaign will be held from November 14 to 18. On Saturday, November 20, protests will be held at the Labour Commissioner's officer, Karmika Bhavan, near Dairy Circle. The protest will also be held at the Labour Commissioner's office in Belgaum and Mangaluru.