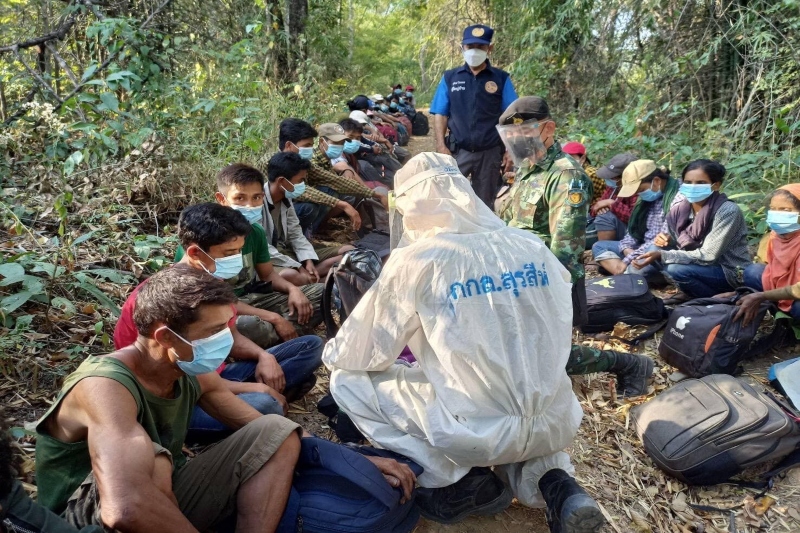 63 burmese migrants arrested as they try to enter thailand

Thailand – Despite repeated warnings, Myanmar migrant workers are trying to enter Thailand through illegal means in search of jobs.
It is well established by now that due to the military coup, Myanmar's administrative structure has been deeply affected which is why people are leaving the nation and looking for work opportunities in neighboring countries especially Thailand.
Many of the Burmese migrant workers have been trying to escape the military rule and seek employment in Thailand. In a recent example, there were 63 migrants who were found in Thailand in search of jobs and were arrested by the local police.
Related Posts
They were caught while trying to cross the borders into Thong Pha Phum, Sai Yok and Sangkhla Buri districts illegally yesterday. Along with these migrants, two Thai men were also arrested after it was found that they were involved in smuggling these migrant workers to the nation.
Among the two agents, one of the agents was found driving 18 migrants in a pickup truck out of which 12 were female migrant workers while the remaining were male. 41 migrant workers were arrested by the Surasee Task Force. There were 23 men and 18 women in the larger arrest.
According to the authorities, these migrant workers will be deported as they were trying to enter Thailand illegally but it will be done after proper legal procedures have been followed. Police officials also charged the two Thai men for assisting the migrants to cross the border. Recent days have witnessed huge arrests when it comes to Burmese migrants. Earlier authorities had arrested 126 migrant workers in Kanchanaburi and Chiang Mai. All the arrested migrants were asked to pay an amount ranging from 5,000 to 20,000 baht to agents as well as job brokers helping them find work in Thailand.