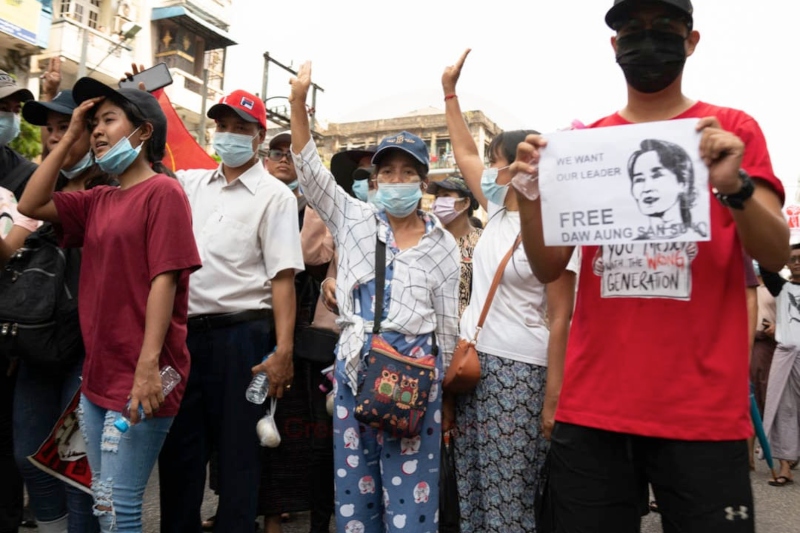 myanmar ignores workers rights amidst ongoing military coup

Myanmar – Amidst the government that isn't working for the benefit of its own, Myanmar is haunted by labor abuse as well. As the citizens revolt against a military coup, their voices are not heard against the kind of labor abuse they have to put up with too.
Heavily populated with garment manufacturing factories, those working here invariably work overtime, with no extra pay. It has come to light that factory managers are indeed suppressing workers' rights. They have slapped them with mandatory overtime and late payment of wages following the February military coup that conspired last year.
Typical work day is of about eight hours but this is invariably stretched to 11 working hours, with no guarantee of overtime pay. Some working in sweater factories have not received their pay for close to 10 months. After having complaint to the Labor Office of Arbitration, arrears were released. But then the factory closed down in a month so.
Related Posts
Khine Zar Aung, president of the Industrial Workers Federation of Myanmar, said she has received at least 50 complaints about rights violations that can be passed on for litigation. International brands seem to have more problems than the local ones. There are no rules governing the rights of workers in Myanmar.
Since the coup, as it is, around 40,000 garment workers are without jobs. To add to that problem, the military has arrested members of trade unions and other workers' organizations in the country, making it difficult to organize a legal defense. Surprisingly, Myanmar's Ministry of Labor has denied reports that workers are not receiving the minimum pay allowed by law. On the split side, workers in the garment industry say most are not receiving full pay, overtime pay, or severance pay when separated from their jobs.
In response to the misrepresentation of labor rights in the year before the coup, the U.S. State Department had already noted that "continued reports of employers engaging in forms of antiunion discrimination," including firing or other forms of reprisal against workers who formed or joined labor unions. Additionally, workers who wanted to exercise their right to strike, were slapped with criminal charges. Trade union members were arrested and charged with violating peaceful assembly laws when holding demonstrations regarding labor rights generally.