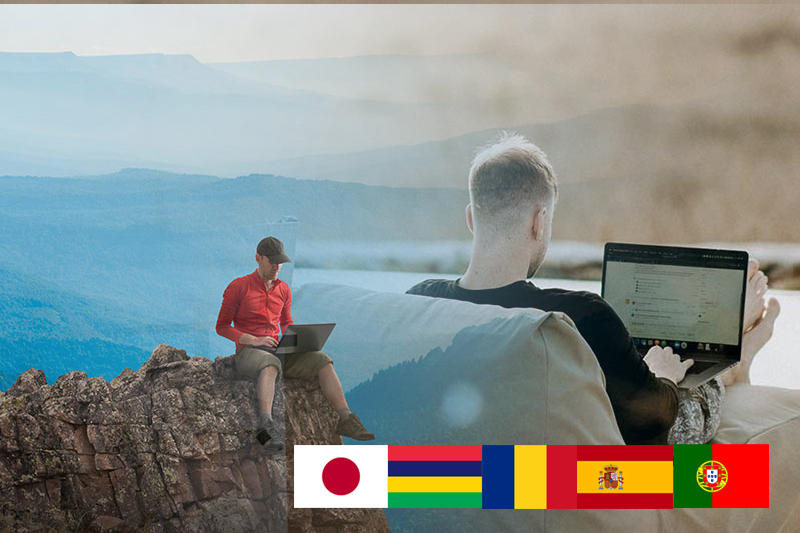 work from wherever these are the best places to be a digital nomad

Global – The pandemic allowed people to work out of the office and even after the restrictions were lifted, many chose not to return to the office. Why do this if you can work anywhere?
In fact, digital nomad culture is flourishing all over the world, and countries like Croatia are actively encouraging workers to choose their country as their new base. So, if you want to add travel to your work-life balance this year, what options do you have?
Choosing a country with good internet access, plenty of local cafes, and cheap rent should be a top priority. But of course you need to think about time zones as well. Working in Tokyo for a cup of strawberry latte might be exciting, but if your company is on a London schedule, you'll need to re-arrange your sleep schedule.
Here are the top 5 countries if you decide to work abroad:
5. Japan
If you work on a European schedule, Japan may not be right for you. But if you can work flexibly, there are many suggestions here. The country scores an impressive 94 out of 100 on the social life scale, with a whopping 149 cultural centers per 1,000 people and a whopping 1,707 bars and clubs per 1,000 inhabitants. Although the average temperature is only 14°C per month, this means you can go skiing in your spare time.
4. Mauritius
Hot on the trail of the top three, the Indian Ocean island of Mauritius is great if you like it a little warmer. The average monthly temperature is 24°C and local prices are low. Long-term apartment rentals cost an average of just €188 a month, and an average three-course meal for two costs just €31.
Related Posts
3. Romania
In third place is the southeastern European country of Romania. With an impressive 92 points, the country scored high in every category except the weather. The average monthly temperature here is only 7 degrees, so if you want to work on the beach, this is not the place for you. However, if you don't mind a cooler climate, rent and food are very cheap and the internet speed is pretty fast too.
2. Spain
The enduringly popular Spain comes in second place, scoring high for LGBTQ+ equality. Air pollution is also low here, and a long-term apartment rental will cost you an average of 507 euros per month. Wi-Fi is fast and there are 807 clubs and bars per 1,000 people, so you'll never run short of places to work. There is a good climate, sociable people and many places to visit.
1. Portugal
Portugal leads the way with an unbeatable score of 100 out of 100. The country scores incredibly well in the health, safety, and social life categories with the lowest air pollution in the top ten, along with a high level of English proficiency. The Portuguese are also very interested in encouraging remote workers: in 2021, the first digital nomad village will open in the Portuguese autonomous region of Madeira.
It looks like it's time to pack your bags, take your laptop with you and go to work in another country. So where would you like to go?