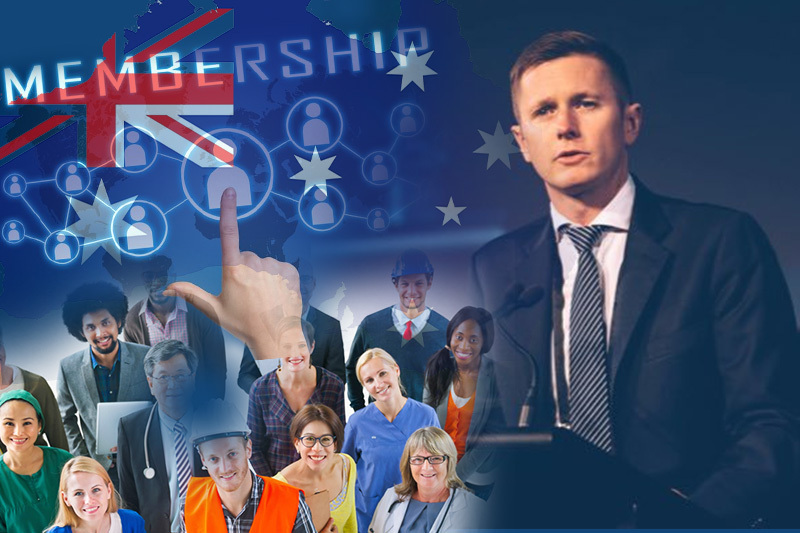 union demands default membership for skilled

Australia – A bold proposal from a prominent union movement figure that has the support of a former top Immigration Department official would require skilled migrants to be automatically union members as part of their work terms.
Daniel Walton, national secretary of the Australian Workers' Union, acknowledged that short-term migration was required to fill jobs in the near future, but he will bring up the demand at the prime minister's jobs summit next month along with a list of requirements to prevent the use of imported labor as a financial crutch.
Walton also wants the government to establish a like-for-like system in which all foreign talent is matched with the creation of a local training position or an increased contribution to the Skilling Australians Fund, a national pool to train up a permanent workforce. Walton presented the proposals to delegates at the AWU national conference on Monday.
"I'm aware that the traditional parties will go into a frenzy about the concept of mandatory union membership, but if you put ideology aside for a second, it makes perfect sense." The biggest defence against worker exploitation, according to the body of international research, is union membership, Walton warned in a caution against Australia becoming a "Saudi-style guest worker economy."
The finest and most effective tool we have to combat a society where foreign workers are exploited and threaten our employment system is union membership.
According to the idea, skilled immigrants would be required to join their appropriate union as part of the workplace induction procedure. However, workers would have the option and right to opt out. They'd be in charge of covering their own union dues.
Innes Willox, chief executive officer of the Australian Industry Group, said it was encouraging to hear the AWU "acknowledge and embrace the critical role of skilled temporary migration" as employers struggle with nearly 500,000 job openings nationwide in a very competitive labour market.
But he issued a warning: "Freedom of association also means freedom from association."
Migration cannot be exploited as a recruitment tool for unions, according to Willox.
Related Posts
When he heard the plan, Abul Rizvi, who served as the Department of Immigration's deputy secretary from 2005 to 2007, predicted that people would "fall off their seats" because of worry that it would only be seen from a political standpoint and not from the standpoint of policy.
Rizvi asserted that Australia must take decisive action to prevent reaching the levels of exploitation that are present in some regions of Europe, the US, and the Gulf states. He added that the AWU's proposal had not been tested before, but he was confident it would be successful.
People are less concerned about being deported if they complain because unions are not a part of the government. Second, we are aware that the Fair Work Ombudsman is totally swamped with the complaints they are receiving, said Rizvi.
Brendan O'Connor, the minister of skills and training, predicted that the summit would be a crucial platform for discussing various concepts and "agreeing upon the steps required to ensure our [vocational education and training] sector delivers the capabilities Australian workers and businesses need."
According to O'Connor, "Our goal is to generate a larger, better-trained, and more productive workforce, increase salaries and living standards, and create more possibilities for more Australians to get ahead and realise their aspirations."
Employers have asked the government to temporarily drop the obligation to run local ads before hiring from outside, but Walton insisted that this must continue since health and elderly care have emerged as priority sectors in addressing the national shortage.
According to him, it is in the best interest of Australia for Australians to work in Australian jobs. "Employers should have to make sure it's possible to hire an Australian tomorrow if it's not possible today."
Recently, Prime Minister Anthony Albanese supported a proposal to expand the Pacific Australia Labour Mobility Scheme, which mostly employs workers from the Pacific Islands on Australian farms, to fill open positions in aged care facilities across the nation.
Multiple allegations of migrant workers being exploited on Australian farms were brought up in a parliamentary inquiry sponsored by Labor, and Rizvi claimed that Pacific workers who entered Australia under an expanded programme ran the possibility of being subjected to similar vulnerabilities.