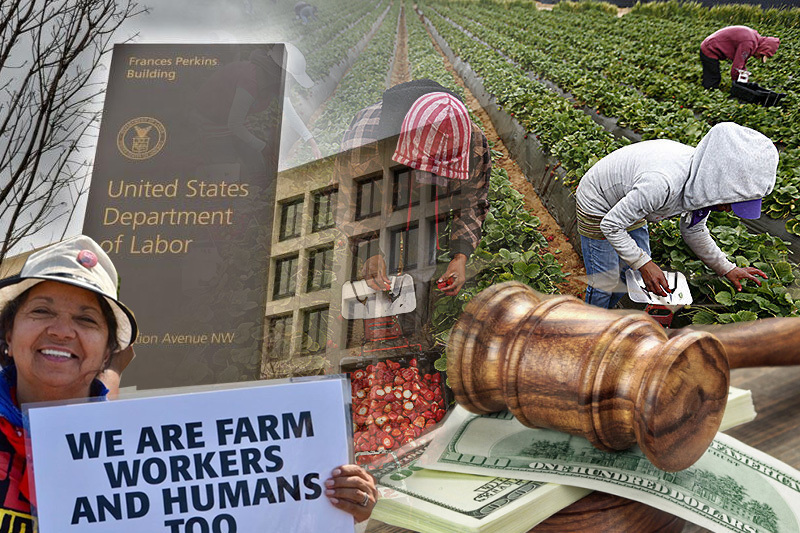 washington orchard violates foreign farmworkers' rights

Washington – A federal inquiry determined that a central Washington orchard operator shirked its legal obligations, risked workers' safety and health, and verbally harassed them. As a result, the operator is temporarily prohibited from employing foreign farmworkers through a well-known visa program.
Welton Orchards and Storage LLC, situated in East Wenatchee, was fined $64,120 for violating the H-2A agricultural worker program, which permits foreign nationals to work temporarily in the U.S. agriculture industry. The U.S. Department of Labor estimates that 3 million migrant and seasonal farmworkers are employed nationwide.
Also collected by the department's Wage and Hour Division was $7,485 in outstanding wages for 26 workers.
ALso Read: Top 5 Countries With The Worst Human Rights Violations In 2022
According to Thomas Silva, district director of the Wage and Hour Division in Seattle, "Welton Orchards and Storage bullied and threatened workers and placed their livelihoods in jeopardy as they violated various rules of a federal program created to aid the nation's agricultural businesses."
An inquiry for comment was not immediately answered by Welton Orchards.
Related Posts
The Northwest Justice Project, the state's largest publicly funded legal aid program, and federal investigators discovered that Welton Orchards and Storage LLC frequently threatened to "send them back to Mexico" and used abusive and offensive language when speaking to H-2A workers, according to the department.
According to the news release, the corporation didn't have working smoke alarms in the employee accommodation and instead provided mattresses on the floor in place of beds. Transport to and from the workers' home countries as well as various visa-related costs were not covered by the corporation, in violation of the law.
In addition, Welton said that when employers signed contracts with workers, the workers would receive a specific number of hours. The news release noted that despite promising to provide all those hours, the corporation failed to do so, leaving workers for months at a time unable to pay for the basics.
According to the federal government, Welton first refused to cooperate with the inquiry but eventually provided inadequate documents that investigators later augmented with data gleaned from employees.
The Northwest Justice Project's director of advocacy, Abigail G. Daquiz, expressed gratitude for the department's ability to enforce regulations to ensure that worker rights are upheld and companies are held accountable.
In Wenatchee, advocates for the Northwest Justice Project helped close the communication gap between staff members and the division during the investigation, according to Daquiz, giving the organization access to the solid community connections the group has built.
Even in the midst of exploitation, workers frequently feel hesitant to divulge their knowledge to governmental organizations, according to Daquiz.
According to the expert, because of their brief stays in the country, H-2A workers are particularly prone to exploitation, trafficking, and abuse. Daquiz claimed that she has observed businesses replacing local labor with H-2A visa holders who are easier to manage.
Read: Top 10 Countries That Offer The Best Work-Life Balance in 2022
Within the last two fiscal years, the Wage and Hour Division has looked at 735 cases alleging H-2A infractions. In that period, it has handed out $9.5 million in civil fines and collected $9 million in back wages for more than 13,000 employees.
Callers are assured of secrecy, and the division offers a search tool for anyone who believes they may be missing wages.