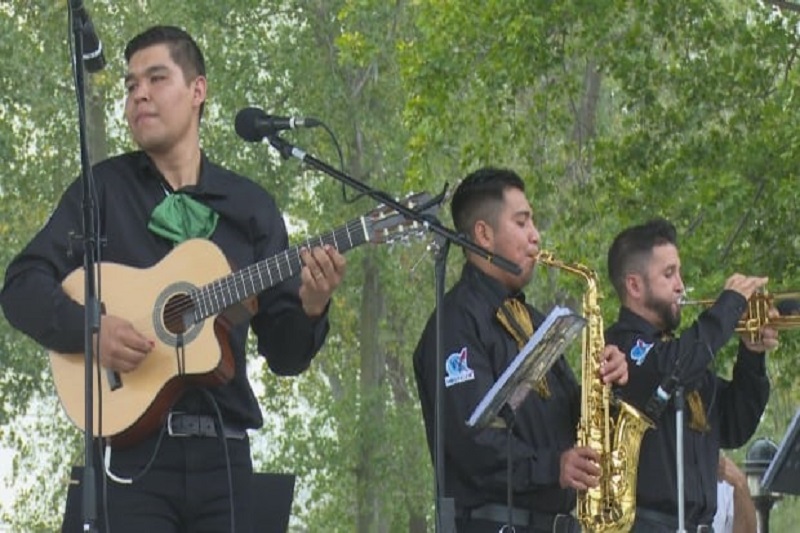 Latin Power Band
There is a common tendency to associate music with luxury or a playful atmosphere, but for some it has become their way and hope for survival. These migrants in Leamington are a perfect example of how music has always been the one to bring people together and enjoy their present.
A band called Latin Power Band steps on stage, it is hard to imagine them doing anything else other than performing in front of hundreds and thousands of people. The lead on trumpet, Arturo Almanza is actually an agriculture worker in Leamington, Ont.
With the jam packed schedule where he works a 12-hour shift spending time with the crops, there is very little time for music in his diary.
But his passion keeps him going and he finds time after 9 at night for music. The band had one of its first big shows at the Seacliff Amphitheatre in Leamington on Sunday. This band is not just something they are passionate about but it also provides them with the much needed escape from the difficult manual labour.
Related Posts
This hard labor practice is especially difficult for Almanza whose whole family–his father, wife and three children– live far from him in Mexico. About this, he confessed that music helps him forget about missing his family every once in a while. "It brings me a lot of joy and it also helps … being on the farm, having some negative or difficult thoughts," he added.
He is not the only one who finds comfort in music, after all it is a 13-member band and they all seemed to have joined it thinking of the relief they will get post all the hard work they did on the field. The group was formed last year in October and initially was with the idea of doing something other than work but now things have turned more passionate than ever.
The conga player stressed that this band has helped his co-workers tackle theri depression who were earlier resulting in alcoholism for escapism. "My co-workers and I were kind of falling into a depression. Unfortunately, we have colleagues who have fallen into alcoholism and drug addiction as they spend a lot of time apart from their families."
Cedillo Aguilar, member of the band, explained that he has not met his family for almost two years and he started to feel lonely as there was absolutely no security given to them and just then, they planned to start a band together. Over thousand migrants came to Windsor-Essex from Mexico and started working in the agriculture sector.
It was always a difficult job for them to leave their families behind and come for work and the coronavirus pandemic made things further difficult and made them isolated and anxious. At a time like this, it was the music that came to their rescue.