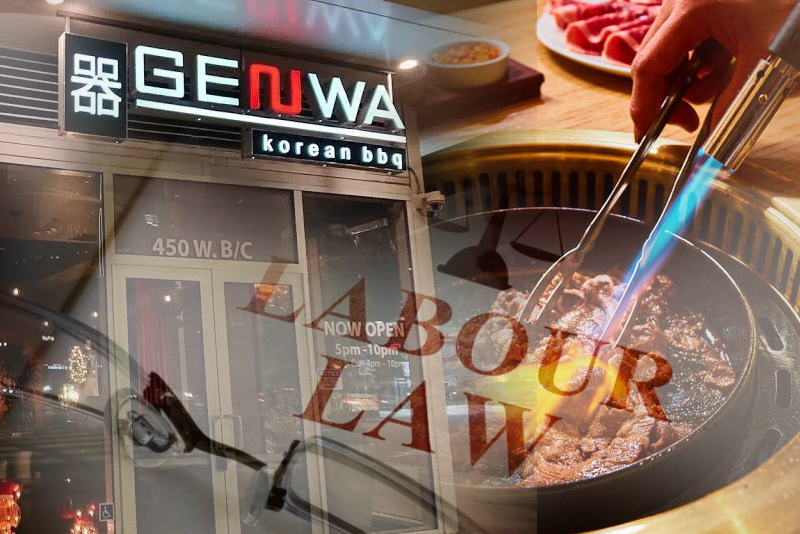 the genwa new restaurant workers union can change la
Last updated on July 15th, 2022 at 04:03 am

United States – Unionization among food workers is on the rise, and Los Angeles employees achieved significant advancements that may have an influence on restaurants both locally and elsewhere. In June, Korean and Latino Genwa employees approved their first union contract, which proponents say could serve as a template for immigrant restaurant workers in Los Angeles and beyond.
The proprietors of Genwa Korean BBQ were cited by the California Labor Commissioner's Office in 2020 for breaking labour rules that affected 325 cooks, waiters, and dishwashers at its Beverly Hills and Mid-Wilshire locations. The $2.1 million fine (later lowered in a settlement) was imposed as retaliation for labour laws infractions include not providing adequate rest and meal breaks, failing to pay overtime workers, and paying employees less than the minimum wage.
Also Read: Top 10 examples of Unjust Laws that need to change
Restaurant employees all throughout Los Angeles have been accusing proprietors of exploitation through salary theft and maltreatment for years. According to an NBC News report, the agreement between Genwa workers — which applies to staff at all three of Genwa's restaurants in LA — includes a salary increase, seniority rights, sexual harassment training, retirement plans, equal tip distribution, and a process for resolving disputes. It also includes reimbursement for health care costs and the rehiring of workers who were let go after February 2020. The execution of this new labour agreement may set new standards for salary and working conditions for municipal restaurant employees.
Related Posts
It's encouraging to see Food Network broadcasts featuring Bobby Flay and his daughter touring the California coast give some attention to Los Angeles eateries. The Los Angeles hotspot Jitlada, Salt's Cure, Mashti Malones, and Roscoe's Chicken and Waffles are featured in Bobby and Sophie on the Coast. Streaming will start on Discovery+ on August 22, according to Deadline.
For the ideal LA narrative, the L.A. Taco crew went to Cha Cha Chá in the Arts District. They tried a Bakers Kneaded croissant from the restaurant that was made with grasshoppers and chilli chapulines. It is offered for brunch.
The Asian-owned and -operated Hanchic and Holy Basil, according to Los Angeles food writer Andy Wang's article for the Robb Report, "represent the future of Asian-American gastronomy in LA."