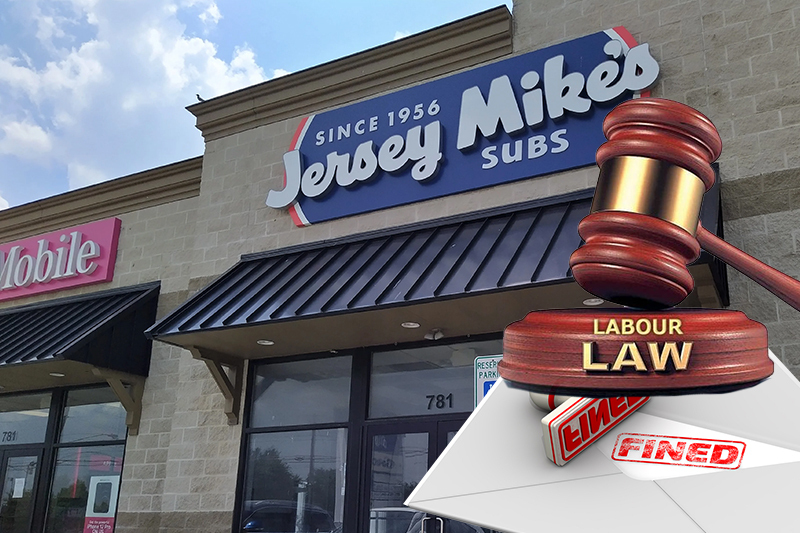 jersy mike
Last updated on July 15th, 2022 at 04:04 am

United States – According to the U.S. Labor Department, Jersey Mike's Franchise Systems Inc. paid $24,660 in fines after inspectors discovered violations of the child labor laws at franchise locations in New Jersey and three other states.
The agency listed several infractions, including allowing 14 and 15-year-old workers to work past 7 p.m. on school nights, past 9 p.m. during the summer, and for more than three hours on school days.
According to Charlene Rachor, wage and hour district director located in Lawrence, "Child labor regulations exist to protect employed kids and guarantee their job experience does not damage their health, well-being, or education."
The Labor Department's fine comes as employers, from cleaning teams to municipalities in need of lifeguards, struggle for a second summer to fill open positions.
According to the Labor Department, investigations were undertaken at Jersey Mike's locations in Bend, Oregon; Radnor, and Horsham in Pennsylvania; Jacksonville and Salisbury in North Carolina; and Red Bank, Long Branch, Neptune, and Freehold in New Jersey.
Related Posts
In addition to working long hours, the agency discovered that Jersey Mike's failed to keep track of minors' proofs of age, it claimed.
Federal law forbids children aged 14 and 15 from working:
More than three hours during the school day, including Fridays.
Over eight hours on a day when there are no classes.
During the academic year, no more than 18 hours per week.
More than 40 hours each week over the summer and winter breaks
Except during the summer, when they may work until 9 p.m., outside of the hours of 7 a.m. to 7 p.m.
Jersey Mike's, which opened in Point Pleasant in 1956 at the intersection of Arnold and Trenton Avenues, has expanded quickly. With pictures of the beach, the water, and surfboards covering its stores, its brand loves the Jersey Shore. And it frequently promotes its philanthropic activities in its advertising.
Requests for comments were not immediately answered by company representatives.
Due to the labor shortage, many businesses in New Jersey have asked lawmakers to relax their limits on teens.
Also Read: Top 10 examples of Unjust Laws that need to change
One idea put forth in the New Jersey Legislature would increase shifts for teenagers 14 and older from five to six hours with a 30-minute meal break and permit 16- and 17-year-olds to work up to 50 hours a week during the summer.