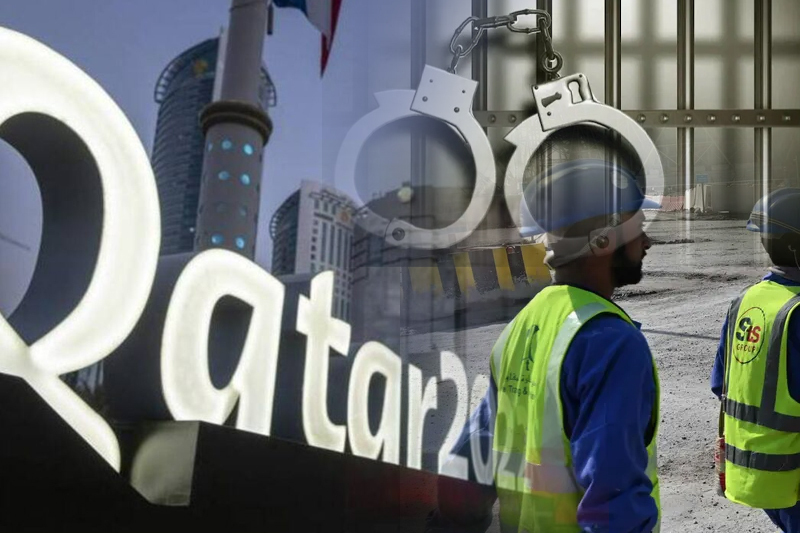 qatar world cup 60 migrant workers arrested protesting dire conditions

Qatar – Qatar arrested at least 60 migrant workers protesting working conditions ahead of the 2022 FIFA World Cup. Protesting workers reportedly revealed that they went unpaid for as long as seven months.
The latest development comes as Qatar faces intense international pressure over its labour practices. According to the latest report from a human rights group, migrant workers have suffered without pay and dire working conditions.
Migrant workers started their protest a week ago, according to the London-based labour rights group Equidem. This week, many protesters were detained by the Qatari authorities. 
Video footage from the protest went viral on social media. It showed some 60 workers were angry about their salaries. They stood outside of the Doha offices of Al Bandary International Group, a conglomerate that includes construction, real estate, hotels, food service and other ventures. The workers were demanding their salaries from the authorities.
Related Posts
Qatar heavily relies on thousands of migrant workers, primarily from India, Nepal, Bangladesh and Pakistan, to build seven new stadiums ahead of the FIFA World Cup. Qatar has always been in the limelight for its treatment of migrant workers. 
Earlier, Qatar has been criticised by the Human Rights Group, Amnesty International, and other campaign organisations over the working conditions of migrant workers. According to the report, migrant workers at construction sites were not treated well, including at the Khalifa stadium in Doha.
Reportedly, more than 24,000 workers suffered human rights abuses in Qatar. Workers who built the Al Bayt Stadium were not paid for many months. The majority of the human rights abuse cases were related to non-payment of salaries.
Amnesty International also said that security guards were forced to work in dire working conditions. The security guards worked 12 hours a day, seven days a week. They did not get a day off for months.
In 2021, Qatar detained and deported a Kenyan security guard who spoke publicly about the country's migrant labour force and practices.