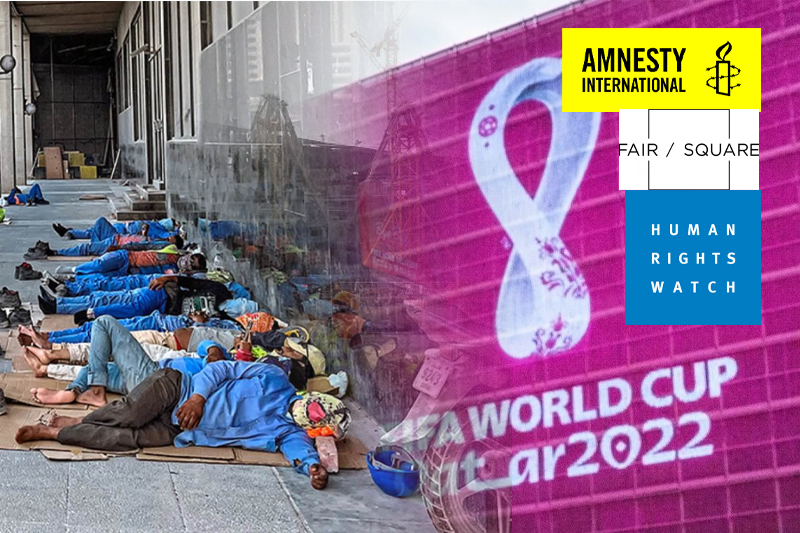 rights groups ask sponsors to press fifa and qatar on migrant worker compensation
Qatar – FIFA's partners and World Cup sponsors must urge world soccer's governing body and the government of Qatar to compensate migrant workers who suffered abuse while preparing the country for FIFA World Cup 2022, said Human Rights Watch, Amnesty International and FairSquare.
The human rights groups urged sponsors of the World Cup to support calls for compensation for migrant workers and their families over alleged abuses. Human Rights Watch, Amnesty International and FairSquare said in a joint statement that 4 of the 14 FIFA corporate partners and World Cup sponsors, AB InBev, Adidas, Coca-Cola and McDonalds, have stated their support for financial compensation for the migrant workers.
HRW's director of global initiatives, Minky Worden, said in the statement, "Sponsors should use their considerable leverage to press FIFA and Qatar to fulfil their human rights responsibilities to these migrant workers."
Visa, Hyundai-Kia, Qatar Energy, Qatar Airways, Vivo, Hisense, Mengniu, Crypto, Wanda and Byjus are FIFA's partners and sponsors that have not yet commented on the compensation campaign for the migrant workers. 
Keep Reading
A poll commissioned by Amnesty International last week showed that people wanted FIFA to compensate the vulnerable migrant workers. Amnesty International said in a statement that the YouGov poll surveyed more than 17,000 adults from 15 countries. Around 73% of respondents said that they "strongly support" or "tend to support" FIFA using some of its 2022 World Cup revenues to compensate the abused migrant workers.
In May, Amnesty and other rights groups called on FIFA to earmark $440 million to compensate the abused migrant workers in Qatar. 
Earlier, Hassan al-Thawadi, secretary general of Qatar's World Cup organising committee, said that Qatar had committed to pay $28 million to migrant workers who had given illegal fees to agents in their home country to work in Qatar for FIFA 2022.
In recent months, Qatar faced intense criticism from human rights groups and activists over its treatment of migrant workers.