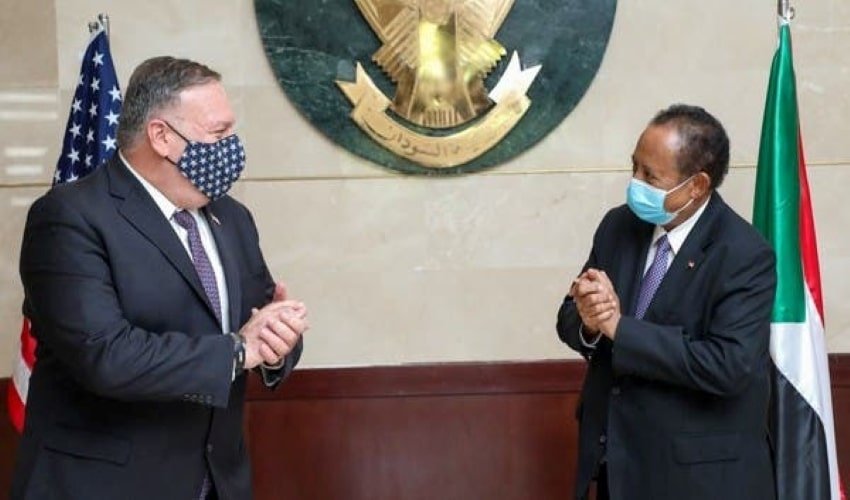 US Embassy in Khartoum has confirmed Sudan's removal from the list of state sponsors of terrorism
The US Embassy in Khartoum on Monday announced the formal removal of Sudan from the US list of state sponsors of terrorism, 27 years after the African country was blacklisted.
In a Facebook post, the US embassy confirmed that Sudan's removal from the state sponsor of terrorism designation has come into effect from Monday (December 14) after the congressional notification period of 45 days lapsed. It further added that a notification to that effect, signed by Secretary of State Mike Pompeo, would be published in the Federal Registrar.
With this development, crisis-hit Sudan will be able to access international loans to revive its troubled economy after facing heavy US sanctions for 27 years.
Furthermore, Sudan's delisting will help the government in Khartoum in normalizing ties with Israel. After the UAE and Bahrain, Sudan had also agreed on normalizing relations with Israel and establishing full diplomatic ties.
United States takes Sudan off terrorism list after 27 years https://t.co/FMXJwp7jf3

— Dan Williams (@DanWilliams) December 14, 2020
Earlier this year, US President Donald Trump had announced that he was delisting Sudan from the state-sponsor of terrorism designation, following which he had sent his notice to Congress on October 26. According to the United States law, it takes 45 days for a country to leave the terror list if there are no objections from Congress.
Significantly, Sudan had pledged to pay $335 million in compensation to American survivors and families of victims of the twin 1998 bombings of the US Embassies in Kenya and Tanzania as part of the deal.
Sudanese Prime Minister Abdallah Hamdok welcomed the Trump administration's decision to remove Sudan from the US list of state-sponsored terror. Addressing a recent news conference on Monday, the Sudanese PM said that it will help in tackling debts and improving the investment environment in the country.
"This is a historic day. Today we return to the international community. This decision helps to implement programs of the transitional period," he said at a conference as quoted by Xinhua news agency.
Sudan was on the US list of state sponsors of terrorism since the 1990s after it was revealed that the African country had hosted al-Qaida leader Osama bin Laden and other wanted militants for a brief period.
Sudan has been struggling with a battered economy and a delicate transition to democracy after an uprising resulted in the military's ouster of former President Omar al-Bashir in April 2019. Currently, the country is under the rule of a joint military and civilian transitional government that is aiming to boost better relations with the US and other countries in the West.