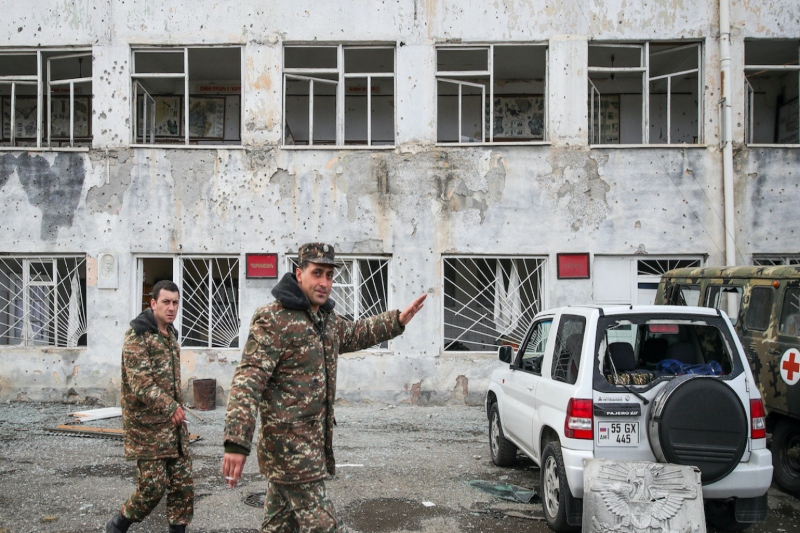 nagorno karabakh war
Last updated on November 15th, 2021 at 06:19 am

Nagorno-Karabakh – It has been a year since the Nagorno – Karabakh war's hostilities came to ceasefire after a trilateral arrangement signed between Armenia, Azerbaijan and Russia. The war lasted over a month with extreme bloodshed, violence impacting population in the region, and now the region needs human rights protection and humanitarian aid than ever. This was addressed by the Council of Europe Commissioner for Human Rights, Dunja Mijatović, in a published memorandum that highlighted the human rights consequences as a result of the conflict.
The Commissioner highlighted that the conflict affected region and territories remain inaccessible to organizations for providing humanitarian aid as well as to human rights monitoring missions. She added that this issue needs to be resolved on a priority by relevant authorities.
The conflict in Nagorno – Karabakh region as a result of territorial dispute between Armenia and Azerbaijan led to hostilities and bloodshed in the region to extreme end. Thousands of people were displaced in order to escape the war. This was in addition to those displaced by 1990s conflict in the region. The Commissioner said, "Anyone who has been displaced due to the conflict and is currently living in Armenia or Azerbaijan, including in areas affected by the conflict, should not be coerced either directly or indirectly to return to their former home." She added that the people must be given free choice of returning and settling with dignity and complete security.
Related Posts
The region is highly contaminated with mines and explosives that are remnants of the war, Commissioner noted. She added with regret that even after war many people have succumbed to these explosions in region. She called on all involved parties for data sharing to enable beginning of demining process. She also urged Armenian and Azerbaijani authorities to endorse in the UN Convention on Prohibitions or Restrictions on the Use of Certain Conventional Weapons Which May Be Deemed to Be Excessively Injurious or to Have Indiscriminate Effects (CCW) and its relevant protocols. Commissioner raised issue of captive people and urged for more engagement from both sides for better communication and data sharing. "Many families still bear the brunt of the conflict, especially those who have lost a family member or whose relatives remain missing. It is therefore of paramount importance to place the families of missing persons, their legal and practical needs, and their right to know the truth at the center of all actions concerning this issue", said the Commissioner.
Commissioner observed that continuing public debate on the conflict in both countries has been marked with toxicity, intolerance and disrespect towards the other country. "The constant rhetoric of 'aggression' or the use of words such as 'enemies' to designate the other side only contributes to perpetuating animosities between the people living on the different sides of the dividing lines", she said.