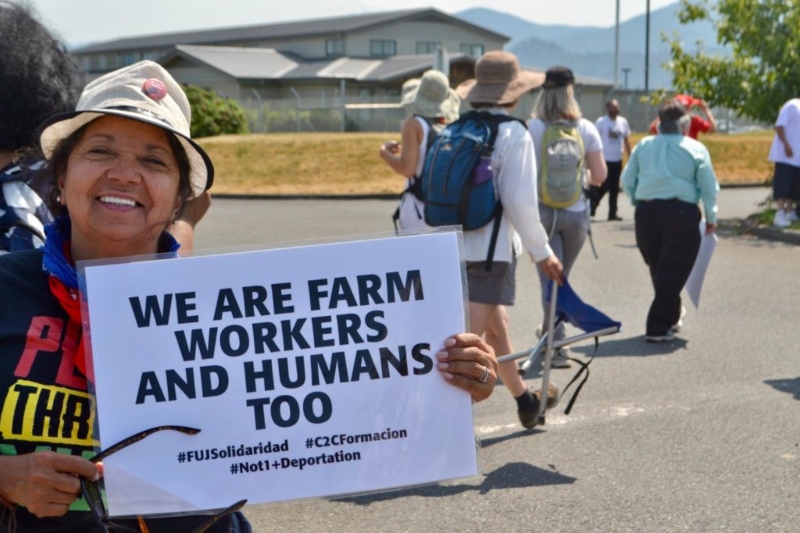 labor rights activists rally for reform farmworker visa program following human trafficking case

United States – Biden administration is getting rallied by a group of labor rights activists as well as civil rights organizations to bring a reform in visa program used by businesses in United States of America for recruiting foreign seasonal farmworkers. The move comes after emergence of recent case of human trafficking. The groups say recent federal indictment that has accused 24 defendants of human trafficking along with other crimes show the fine failures in the program.
The groups include United Farm Workers, Farmworker Justice, the Southern Poverty Law Center and others. They underlined that reforms are needed to put a halt on labor abuse in a letter addressed to Vice President Kamala Harris and the heads of three federal agencies.
Case's prosecutors have noted that defendants required seasonal foreign farmworkers to pay illegal fees, withheld their IDs, forced them to work for little or no pay, housed them in crowded and unsanitary conditions and also threatened them of deportation and violence. The indictment added at least two workers died in these circumstances. All defendants have pleaded not guilty.
Related Posts
"We are alarmed by this case – not only because of its devastating allegations, but also because we believe that many other such abuses likely exist given the deeply flawed nature of the H-2A program and the widespread violations of farmworkers' limited labor rights," the groups' letter said.
A recent investigation by USA Today and the Milwaukee Journal Sentinel exposed labor violations of similar nature in H-2A program. The story made revelation of how Miguel Ángel Guzmán, a 24-year-old guest farmworker from Mexico, was forced to work for hours picking tomatoes and died of heat stroke. It was later determined by U.S. Occupational Safety and Health Administration that the contractor who hired him had not taken required heat-related safety measures.
U.S. Department of Labor spokesman Egan Reich said his department is reviewing the labor rights groups' letter and is currently in discussions with United Farm Workers about their positions. "The Department of Labor is deeply committed to protecting agricultural workers," he said in a statement that was emailed to USA Today.