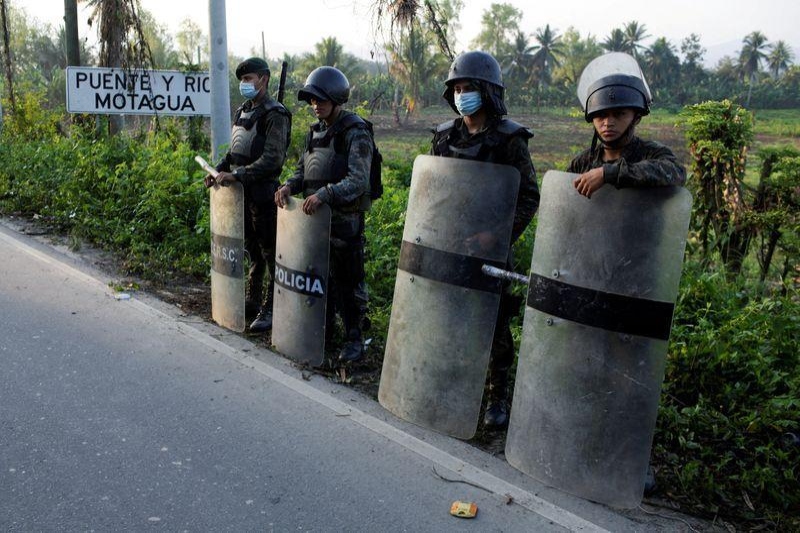 hundreds of us bound migrants pushed back in guatemala

Central America – More than 600 people in a migrant caravan was stopped by Guatemalan authorities. The people, mainly from Honduras and Nicaragua, had set off from Honduras city of San Pedro Sula on Saturday, according to authorities. They were attempting to reach United States via the Mexican border, approximately 1,200 miles away.
Authorities said the migrants had arrived Saturday afternoon in the Honduran border town of Corinto. After that they crossed into Guatemala where they were intercepted by security personnel. In a rather violent confrontation with Guatemalan security officials the migrants reportedly threw stones and other objects on the officials. Dozens of officials have been reportedly injured in the tiff as they tried to push back the caravan. Video images have shown Guatemalan police officials using riot shields to attempt to stop a large group of US bound migrants from pushing forward. The authorities have said that some people tried to make illegal crossings as well.
Related Posts
The foreign ministry of Guatemala said the migrants, majority of which are men, were returned to their respective countries or to the nation from which they made their way into Guatemala as they did not meet immigration or health requirements. Fifteen Cubans are said to be returned to Honduras.
Continuous deterring of migrants has not weakened resolve of scores of migrants in Central America who want to push northwards to reach United States. "We can't go on another day here. I want to get to the United States," said a Nicaraguan man who planned to leave on Monday. Guatemalan Migration Institute's director Carlos Emilio Morales said, "People are being returned, everything in order, humanely." He added, "We are protecting our borders; we are protecting the health of all Guatemalans." It is required that all migrants who wish to stay in Guatemala to have identification, proof of Covid-19 vaccination as well as a negative Covid-19 test.