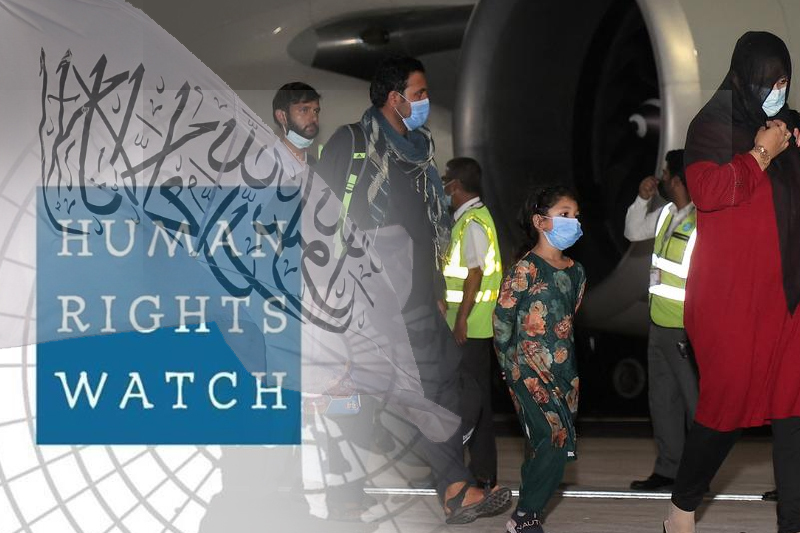 hr watchdogs ask us to ban taliban from traveling
US – Human Rights Watchdog urged the US to halt the Taliban's international travel in a report released on the first anniversary of their return to power in Afghanistan.
In contrast to the US's long-standing foreign travel ban on the Taliban leaders, the UN Security Council (UNSC) earlier granted Islamic Emirate leaders exceptions to travel restrictions to help their negotiations with the US.
In a statement, the human rights organization urged the US to impose travel restrictions on representatives of the Islamic Emirate and expressed worry over the treatment of women and children in Afghanistan, according to TOLOnews.
"The Biden Administration and US Congress must take immediate action and prioritize Afghan women and girls in all of their humanitarian, development, and diplomatic efforts in Afghanistan. Countering the Taliban's gender discrimination and promoting stability and development in Afghanistan are both in the US's national security interest and moral obligation. One cannot be accomplished without the other," according to the report.
Related Posts
Zabiullah Mujahid, a spokesman for the Islamic Emirate, refuted the assertions made in the report and asserted that women are included in a number of areas.
The police, the national ID and passport services, the health sector, higher education, secondary education, and other fields all employ women, he claimed.
If immediate action is not made to oppose the Islamic Emirate's cruel rule in Afghanistan, several women's rights advocates asserted, there won't be any changes in the Islamic Emirate's policy.
According to Marriam Marouf, a women's rights activist, "Undoubtedly, the reports and remarks which are made by the human rights groups about the Afghan women cannot assist the situation in Afghanistan," TOLOnews stated.
In a statement earlier on Tuesday, Human Rights Watch's (HRW) Associate Director for Women's Rights, Heather Barr, noted that 327 days had passed since the Taliban effectively outlawed girls' secondary education in Afghanistan. As she denounced the Taliban government, that amounts to 327 days of a nation's girls being denied an education—327 days they will never get back.
An extraordinary national economic, financial, and humanitarian crisis has aggravated the human rights situation since the Taliban took control of Kabul last year.
Terrorist attacks, assassinations, explosions, and assaults have become commonplace, and human rights abuses such as the ongoing murder of civilians, the destruction of mosques and temples, assaults on women, and the stoking of terror in the area continue unabatedly.
The Taliban destroyed the system in place to address gender-based violence, put up new obstacles in the way of women getting the health care they need, prevented female aid workers from doing their jobs, and attacked demonstrators for women's rights.
Large-scale violence has been unleashed as a result of the US troops leaving the country, leading to political unrest in several regions of the nation. According to UNAMA, at least 59% of the population currently requires humanitarian aid, an increase of 6 million people since the beginning of 2021. (ANI)