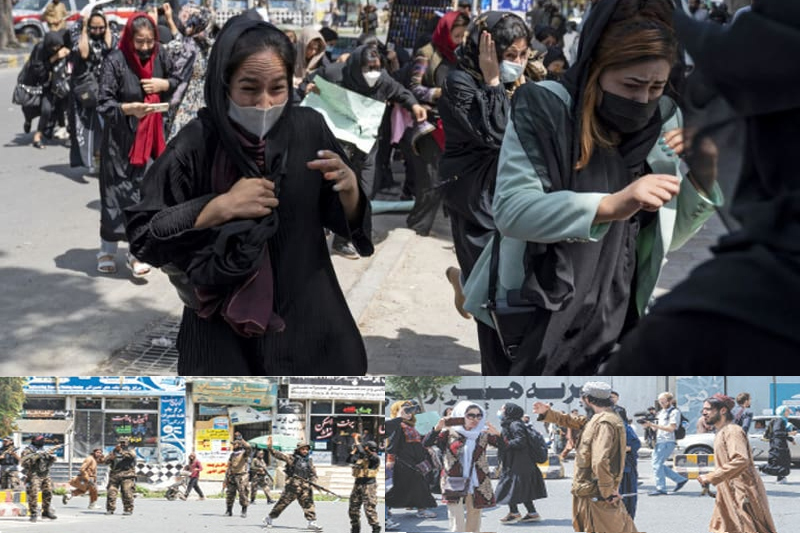 taliban break up rare protest by afghan women in kabul

Kabul – "They didn't beat us much this time," said one of the protesting women. About 40 women marched through the Afghan capital. The protest was about women's rights. The Taliban dispersed them by firing into the air.
Some female protesters who took refuge in nearby shops were chased and beaten by Taliban fighters with their rifle butts. The militants confiscated mobile phones, stopping one of the first women's protests in months.
After the Taliban came to power, women's rights were severely limited.
The protesters demanded, "bread, work, and freedom" while carrying a banner reading "August 15 is a black day" referencing the day the Taliban took over Kabul in 2021.
The year after they returned to power, the Taliban issued various orders restricting women's freedom, barring them from holding most public offices, completing secondary education, and traveling more than 45 miles (70 km) without a male guardian.
Since the school ban was announced in March, many secret schools for such girls have sprung up in several provinces.
Related Posts
The UN and human rights groups have repeatedly condemned the Taliban government for imposing restrictions on women.
In May, militants issued a decree requiring Afghan women to wear the Islamic veil. Despite this, most of the protesters did not wear the veil "Justice! Justice! We are fed up with ignorance."
If a woman refuses to comply, her male guardians may be sent to jail for three days, although this is not always enforced.
There have been a few small protests over the past year, but any form of dissent is suppressed.
Afghanistan is the only country in the world that officially restricts education based on gender, which is the main stumbling block in the Taliban's attempts to gain international legitimacy.
Girls were banned from secondary education, the Ministry of Women's Affairs was dissolved, and in many cases, women were not allowed to work.