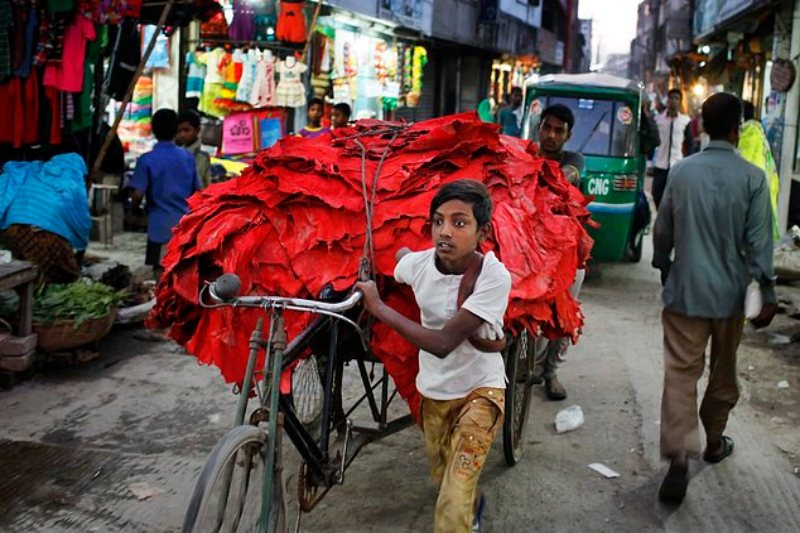 child abuse in bangladeshi leather business
Bangladesh leather industry is making despicable use of children to meet its manufacturing needs. According to a human rights study, children as young as seven years have been forced to work with hazardous chemicals, heavy machinery or carry heavy loads. All this is endangering their health and lives. The leather industry in Bangladesh remains lucrative and therefore the prospects of cheap labour supply through children is prevalent. 
According to the same study, more than 160 million children were subjected to torture and forced labour and this figure only became worst under the Covid-19 conditions. The study has been conducted by the Institute of Development Studies (IDS), a UK-based international development policy think tank, as the world marks 2021 as the International Year for the Elimination of Child Labour.
Children have been forced into doing jobs in the tanneries that are extremely labour intensive and pose a danger to their health and wellbeing. The study pinpointed how children aged seven to 17 were working 12 to 14 hours a day with merely one day off in the week. They were employed in almost all processes along the leather supply chain – from animal slaughter and skinning to dyeing, waste disposal and manufacturing of leather products and by-products such as glue and meat.
Related Posts
When spoken to, researchers found out that these children had been subjected to verbal and physical abuse as well. Most of the children said that scolding, threats, and other forms of verbal abuse were very common. Some reported being physically abused by their employers for being slow or making mistakes. But local industry associations insist that their businesses are strictly regulated and that the worst forms of child labour do not exist in their sector.
It seems the government in Bangladesh has turned a blind eye to the growing plight of children being illegally employed in tanneries. Another reason for this exploitation is the low employment opportunities that has forced parents to send their children into doing this kind of work. On average, children interviewed in the study earned US$90.80 per month and the lowest monthly income was just US$11.80.
Recent recommendations by Human Rights Watch to Bangladesh's ministry of labour and employment include rigorously enforcing existing laws, prohibiting hazardous child labour in tanneries, with monitoring and unannounced site inspections, and issuing penalties against employers who violate the law.