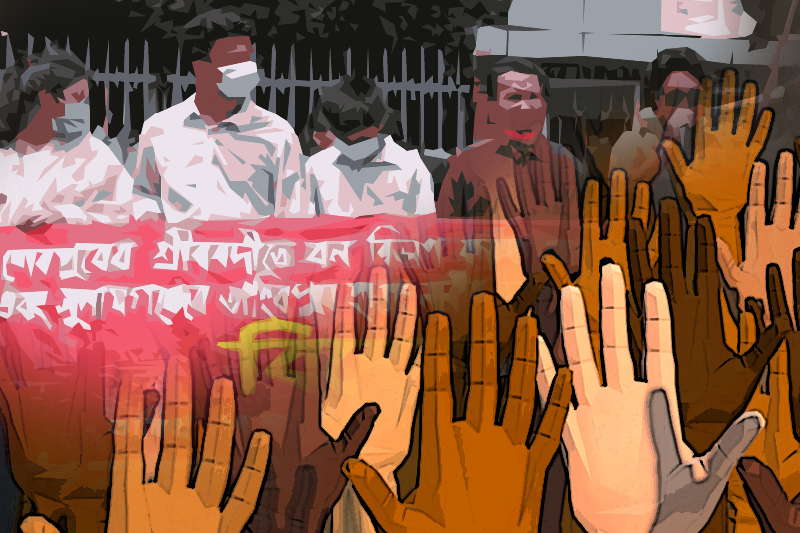 bangladeshi indigenous women
Last updated on August 19th, 2021 at 07:57 am
Bangladesh's Adivasi Chhatra Sangram Parishad is demanding a separate human rights commission with the aim of putting an end to oppressive actions against indigenous women in the country. On Tuesday, activists and leaders of the group conducted a rally outside the National Museum in Dhaka to protest the rape of an indigenous woman belonging to the Hajong community in Sunamganj. Protesting against oppression of indigenous women, the activists demanded exemplary punishment for the rapist.
President of Bangladesh Adivasi Youth Forum Ananta Bikash Dhamai, General Secretary of Hajong Students' Organisation Ashish Hajong and other rights activists were also present at the rally.
Call for provision of rights
As part of the protest rally, activists have issued a five-point charter of demands which include:
Exemplary punishment for those involved in the heinous act
A separate land commission for ethnic minority communities
Ensuring the provision of rights of traditional land of people of ethnic minorities
Appropriate compensation for the five Garo families affected in SreebardiUpazila of Sherpur District and range officers and beat officers
Conspiracy of grabbing the land of the ethnic minority group of Dolychhora in Moulvibazar
Speaking about the incident, experts underlined that oppression against indigenous women in the country has increased recently. Prof Khairul Chowdhury of Dhaka University's Department of Sociology, expressed support to the group and called for the formation of an independent indigenous human rights commission to solve the problems of ethnic minorities in Bangladesh.
Related Posts
"Patriarchal society and culture of injustice are the main reasons behind such incidents in Bangladesh," said Zobaida Nasreen, teacher at Department of Anthropology in Dhaka University.
She further urged the society to come together to fight against rape, noting that such crimes cannot be tackled only through protests.
Indigenous women in crisis
At the same time, indigenous women are struggling to overcome the repercussions of the COVID-19 pandemic crisis in Bangladesh. As per reports, domestic violence against indigenous women in the country has increased in recent months as a result of job losses and pay cuts in the aftermath of prolonging pandemic-induced lockdown.
According to the Manusher Jonno Foundation (MJF), indigenous women in both hill tracts and plain lands are highly vulnerable to various forms of violence. MJF executive director Shaheen Anam stressed the lack of security facilities for indigenous women as a major concern for their safety in the region.
Bangladesh Indigenous Women's Network has also raised concerns related to multifaceted discrimination faced by women of ethnic minorities in the country.
"Due to various discriminatory policies and patriarchal system of society, indigenous women are not being involved in the decision-making process," Falguni Tripura, coordinator of Bangladesh Indigenous Women's Network, said during a recent event.