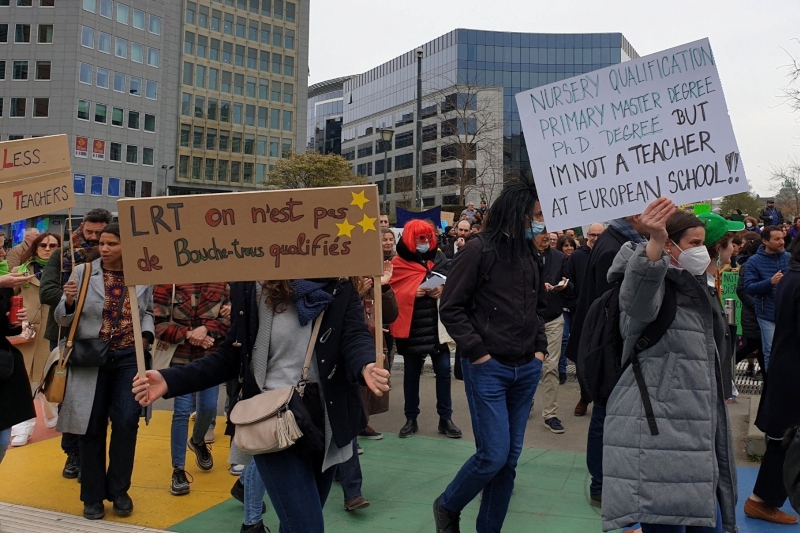 european schools' teachers demand eu employment rights in a protest in brussels

Europe – Hundreds of teachers at European Union (EU) schools marched on Wednesday to demand better job security and contracts protected under EU employment laws.
As many as 300 teachers gathered in the EU district of Brussels on Wednesday afternoon. They protested at the terms under which locally recruited teachers are hired for the European Schools. They were also holding banners to protest against the terms.
According to Reuters, the 13 schools cater for around 28,000 children of staff at EU institutions. Five are in Belgium and the rest in Germany, Italy, Luxembourg, the Netherlands and Spain.
Reportedly, the protesting teachers were hired locally and paid less. Their salary was not sufficient for them to lead a better lifestyle. Philosophy teacher Matthew Pye said that the locally recruited teachers are employed on a contract designed by the European Union council. Pye further added, "The contract represents all European values and principles, but we are exempt from all those principles. So all European employment law does not apply to us."
Related Posts
The protestors said that they risk having their own jobs advertised abroad. They claimed that they can be removed from their post or have their hours sharply cut if an EU member state hires a teacher to fill the same post. The protesting teachers were also denied union membership.
They claimed that millions of people through the European Union had benefited from improvements to EU labour laws. However, they did not receive any benefit from the EU labour laws.
Reportedly, many schools in the EU do not hire teachers on full-time contracts. Most of the teachers work for multiple schools and provide private tuition to students to make up a full salary.
The EU countries have a "freedom of movement" agreement, which means their citizens can all live and work in each other's countries without a visa. The EU office responsible for European Schools did not comment on this matter.