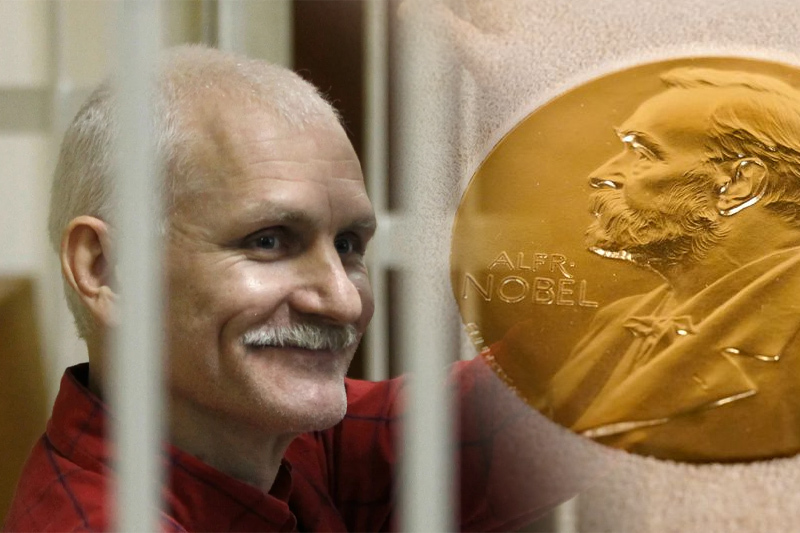 belarus scorns nobel for rights defenders as
Global – While Belarusian authorities derided the decision, officials in Europe and the United States applauded the awarding of this year's Nobel Peace Prize to campaigners fighting for democracy and human rights in Russia, Belarus, and Ukraine.
The relationship between Moscow and its Western neighbours has reached a new low as a result of Russia's invasion of Ukraine this year. Relations had already been tense prior to it because of President Vladimir Putin's support for pro-Russian rebels in Ukraine, for the autocratic leaders of Belarus and Syria, as well as his domestic repression of political opponents such dissident Alexei Navalny.
The Nobel Committee awarded the 2022 prize to the Ukrainian Center for Civil Liberties, which focuses on exposing war crimes, the Russian rights organisation Memorial, and the imprisoned Belarusian rights activist Ales Bialiatski. Norwegian Prime Minister Jonas Gahr Store said, "I hope the Russian authorities read the justification for the peace prize and take it to heart.
"It conveys the message that suppressing civic society is a means of preserving one's own authority. It is criticised after being observed from the outside" said he.
The laureates received immediate praise from world leaders, including French President Emmanuel Macron, who tweeted that their award "pays respect to tireless champions of human rights in Europe."
The French president stated, "Artisans of peace, they know they can count on France's backing."
The winners "remind us that, even in dark days of war, in the face of intimidation and persecution, the common human desire for rights and dignity cannot be extinguished," according to U.S. President Joe Biden.
In a statement, Vice President Biden said that "the brave people who undertake this work have pursued the truth and documented for the world the political repression of their fellow Americans — speaking up, standing up, and staying the course while being threatened by those who demand their silence."
In a tweet congratulating the winners, NATO Secretary General Jens Stoltenberg stated that "the right to speak truth to power is crucial to free and open societies."
Jeppe Kofod, the foreign minister of Denmark, stated that the war in Ukraine must be taken into consideration while evaluating the award.
"In Europe, a war is raging. Therefore, it is more crucial than ever for you to continue working for peace and human rights, "To the winners, he remarked. I appreciate that.
The three teams "completely deserved" the honours, according to German Chancellor Olaf Scholz.
Keep Reading
He told reporters outside a meeting of European Union leaders in Prague that "the bravery, passion, and clarity with which (they) are fighting for freedom and justice deserves the highest appreciation."
The Associated Press was told by exiled opposition figure from Belarus Sviatlana Tsikhanouskaya that the prize was "recognition of all the individuals who are sacrificing their freedom and lives for Belarus."
The Belarusian government has been repressing journalists and protesters who allege that the 2020 presidential election was rigged violently for the past two years, beating thousands of them, imprisoning tens of thousands of people, and filing cases against human rights advocates that the opposition claims are politically motivated. Many people have left the country in search of safety.
Physically, you know, this reward won't change their circumstance, but Tsikhanouskaya was confident that it would affect other nations' attitudes and intents toward assisting those who were incarcerated.
Bialiatski was referred to as "a legendary person" by Svetlana Alexievich, a Belarusian journalist and author who received the 2015 Nobel Prize in literature.
According to Alexievich, "What Viasna, founded by him, has done and is doing in the current circumstances, is in his spirit, in his philosophy."
Bialiatski, she continued, is "very unwell" and requires medical attention, but is "unlikely to be released from custody."
Meanwhile, the foreign ministry of Belarus criticised the Nobel committee's choice to honour Bialiatski as being "politicised."
In recent years, a number of crucial decisions made by the Nobel committee — we're talking about the peace award — have become so politicised, Anatoly Glaz, a ministry spokesman, said, "I'm sorry, Alfred Nobel got tired of turning in his grave."
The Norwegian Nobel Institute's director, Olav Njolstad, dismissed the criticism.
We are more likely to comprehend Alfred Nobel's wishes and intents than the Minsk dictatorship, he asserted.
The Nobel Committee "has an intriguing understanding of (the) word (of) peace" if representatives of two countries that attacked a third one receive (the prize), according to a senior adviser to Ukrainian President Volodymyr Zelenskyy.
Mykhailo Podolyak tweeted, "Neither Russian nor Belarusian organisations were able to mobilise resistance to the war. The Nobel Prize this year is "wonderful."
Oleksandra Matviichuk, a Ukrainian attorney and the director of the Center for Civil Liberties, asserted that the award was given to the organisations, not the nations in which they were based. She claimed that since 2014, her co-winners had spoken out strongly against Russia's animosity against Ukraine in an interview with German weekly Der Spiegel.
She remarked, "They always called things by their names. Ales Bialiatski is currently imprisoned and Memorial is prohibited because of this."
It's not about the nations, she added, but about the people who are all working together to fight evil.