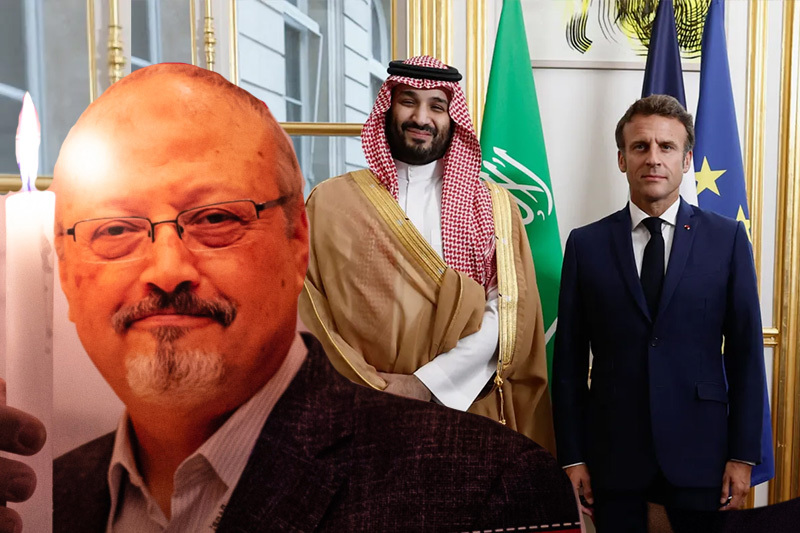 macron criticized by rights groups over

Paris – Saudi Arabia's Crown Prince Mohammed bin Salman is under probe by human rights groups and critics for his alleged complicity in murder of journalist Jamal Khashoggi about four years ago. The latest decision by French President Emmanuel Macron to host the Crown Prince in Paris has met with fierce criticism and rebuke from human rights groups and experts. Macron welcomed Prince Mohammed on Thursday for talks at Elysée Palace, marked by a long handshake.
Critical for gas supply to France
French prime minister, Élisabeth Borne has acknowledged that this decision is going to attract a lot of criticism due to human rights concerns surrounding the Crown Prince. But she added that this step will "secure a boost in Saudi oil output amid mounting western concerns over energy shortages this winter after Russia's invasion of Ukraine".
"Obviously, this isn't about casting aside our principles. It's not about calling into question our commitment in favour of human rights. The president will surely have an opportunity to talk about this with Mohammed bin Salman," Borne said. She added that with Russia curbing the gas supply to Europe, it is only fair for the country's leadership to explore all avenues to secure a smooth channel of gas supply for the people of France.
Related Posts
Saudi Crown Prince complacent in murder of Jamal Khashoggi
An investigation carried out by United Nations after the high profile killing of journalist Jamal Khashoggi. The probe concluded that there was "credible evidence to justify further investigation of high-level Saudi officials, including Prince Mohammed" into the murder of Khashoggi. US intelligence agencies have said that Crown Prince had approved the operation of Khashoggi's assassination. But Riyadh has blamed rogue agents of the killing.
Prince Mohammed's visit to France and Biden's trip to Saudi Arabia "do not change the fact that [Prince Mohammed] is anything other than a killer", said Agnès Callamard, the secretary general of Amnesty International. The invitation and greeting of Crown Prince by world leaders was "all the more shocking given many of them at the time expressed disgust and a commitment not to bring him back into the international community", she added.