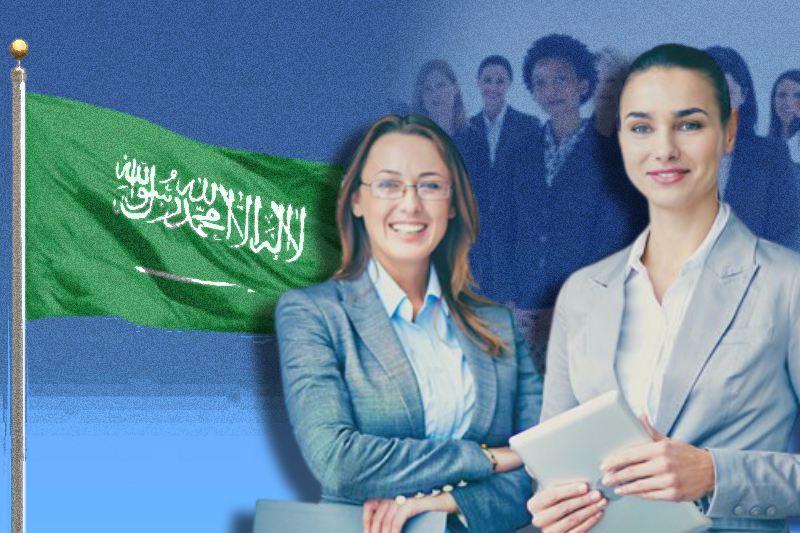 saudi women work
In a significant development, more Saudi women are joining the Kingdom's labor market in recent years. As per latest figures, Saudi women's participation in the local workforce increased exponentially from 20 percent in 2018 to 33 percent by the end of 2020.
A recent report by American Think Tank Brookings noted that the share of Saudi women in the labor market surged by 64 percent in just two years. Saudi media has also reported more than 51,000 Saudi women entered the Kingdom's labor market in 2020, dominating most of the jobs created last year.
This increase is largely driven by the private sector hiring of Saudi women. Overall, a 10 percent increase was witnessed in private sector employment of Saudi women across all major economic sectors, including construction (9%), manufacturing (14%), and accommodation and food (40%). Administrative and support services saw fresh employment of 10,284 Saudi women, while around 9,007 women joined the wholesale and retail trade sector.
Related Posts
Women of all ages are entering the labor market in increasing numbers. Another major driver of the surge in female workers' participation is the rise of middle-skilled women in the workforce. There has been a threefold increase (from 9 to 25 percent) in the entry of women with secondary education in the Saudi workforce during the period.
This has resulted in reduction of the overall unemployment rate in the Kingdom. A recent market release by the General Authority for Statistics (GaStat) indicated that unemployment in the Gulf Kingdom fell down from 14.9 percent in third quarter of 2020 to 12.6 percent in the fourth quarter. In addition, female unemployment dropped from 30.2 percent in Q3 to 24.4 percent in Q4 in the Kingdom.
With the lifting of driving ban for women in 2018 and ending gender segregation in restaurants in 2019, the Saudi government is implementing notable reforms to empower women in the Kingdom. This development has come in line with the Saudi Crown Prince Mohammed bin Salman's Vision 2030 plan that aims to provide employment opportunities to about 1 million Saudi women by 2030. With this initiative, the Saudi government is working towards boosting participation of women in various fields that were previously restricted to men.
In February 2021, the Saudi Ministry of Defence allowed women to join the military and armed forces in the Kingdom. The ministry opened recruitment of Saudi women for the posts of soldiers, lance corporals, corporals, sergeants, and staff sergeants.