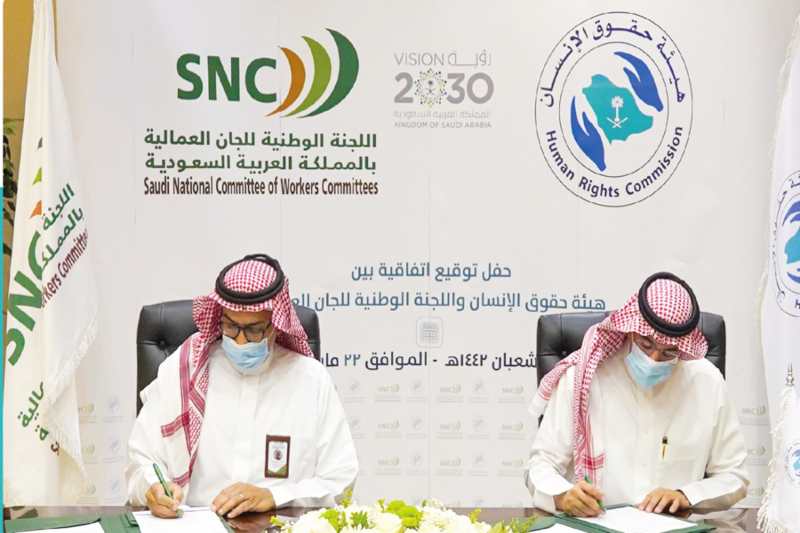 saudi arabia Human rights group signs mou
On Monday, two rights groups: Human Rights Commission and the Saudi National Workers Committees signed a memorandum of understanding (MoU) to work together towards promoting and protecting workers' rights in the country. The two rights groups would also work as the Arab nation's watchdog against illegal practices including human trafficking of workers. The agreement was signed by HRC Chairman Awwad Al-Awwad and the chairman of the national committee, Nasser Al-Jarid.
The MoU would enable the two independent pro-migrant groups to evaluate the country's exiting labor laws, regulations, and to allow the two to put in place more effective measures for combating trafficking of workers. Besides, the two said that the agreement would also enable them to support each other while participating in different forums, conferences, scientific symposia, and special workshops.
The two organisations also mentioned that they would be focusing on conducting training programs to enhance the workers' skills in the field of human rights and welfare. Besides, the tie-up would help HRC in strengthening ties with government agencies and civil society organizations to promote awareness and respect for human rights.
Related Posts
The country has been actively adopting measures to ensure the safety of its foreign workers. Last week, the Saudi governmentformally abolished the exploitative kafala system. The age-old system was adopted by the Saudi regime about 70 years ago. The system used to tie down migrant workers to their employers, or sponsors, who confiscated their visas and bind them to their employers for permission to work or shift their job. With the abolition of the system, now migrant workers could freely change their jobs and would no more require the approval of their employer to leave the country.
Besides, observers believed that lifting of the kafala would eventually uplift Saudi economy, especially its private sector, which would welcome greater work force. As part of its major diversification plan, Saudi Arabia has been aiming to build a less oil-reliant economy. The country's labour reforms have been linked to the its extensive economic reforms pushed forward by Saudi Crown Prince Mohammed bin Salman. Last year in November 2020, Saudi government introduced labour reforms to better the ties between Saudi employers with migrant workers. The reform initiative was tabled by Ministry of Human Resources and Social Development.