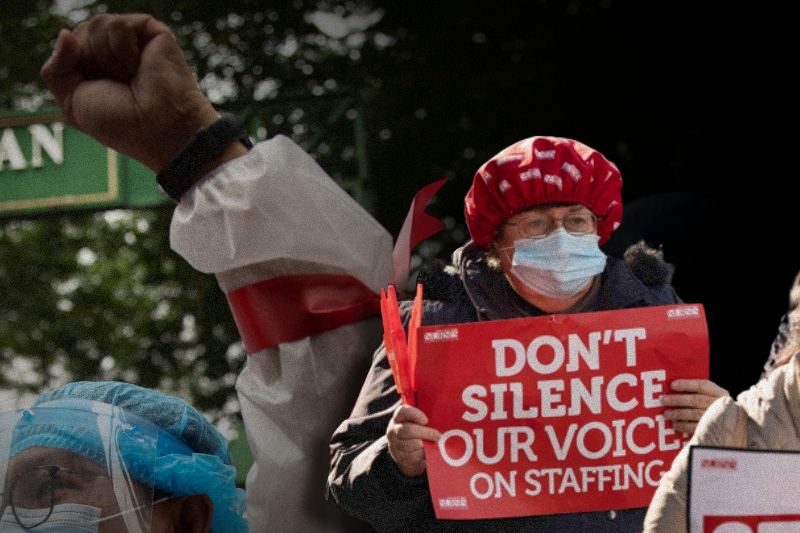 Turkey's health workers strike for 2 days over against government's health policies

Turkey – The health workers in Turkey's Antalya went on a two day strike on March 14 and 15. The health workers gathered at the entrance of Atatürk State Hospital in Antalya, protesting against the recent remarks by Turkish President and ruling Justice and Development Party (AKP) Chair Recep Tayyip Erdogan, and health policies of Turkey's AKP government. In his latest speech on Women's Day, the President had targeted physicians.
Health and Social Service Laborers' Union (SES) Antalya Branch Co-Chair Şükran İçöz said on behalf of the health care workers, "Your five promises that you called good news on March 14 will never solve the problems of healthcare laborers that have been incrementally increasing so far. We once again say and warn: We don't want to be stalled; we want what is rightfully ours."
Related Posts
"We have tried to express the unjust practices so many times; we have fulfilled strike (duties); but we are now saying 'Enough' to those who turn a deaf ear to us and who ignore us. While we are supposed to celebrate to mark the Doctor's Week, we are once again on duty. And we do it by being threatened, by being told that we cannot strike as it is forbidden. We have joined our voices and hearts in the face of all these pressures and attempted bans by prioritizing rights before laws."
The demands put forward by the protesting health care workers include:
A new effective "Law on Violence in Healthcare" must be enacted to ensure a safe working environment sans violence
Furthermore, mobbing and pressures on the health care workers must be ended
A basic wage for health care workers which is not performance based
An additional indicator by degrees from 3600 to 7200
Full implementation of an actual service period or depreciation of 90 days per year for all workers in health care sector
Several health care workers went on strike for 2 days in many provinces across Turkey saying out their slogan "We struggle for our labour, rights and right to health" loudly.